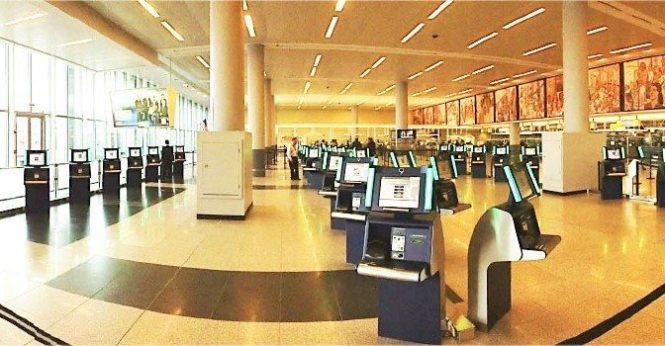 Passport kiosks APC
and more
Self-service Industry Group (Selfservice.io) was fortunate to get some time with Christopher Gilliland who is the manager of Innovative Travel Solutions at Vancouver Airport Authority.
Airlines terminals and ATMs and Photo Kiosks (Kodak) were the Big Three to kick off Self-Service and the american consumer.YVR has been the leading automated passport kiosk deployer for many years. For that matter airport terminals  have been the domain of Canada for many many years. Why that is, is a mystery but it is a fact. Some of the early original airline check-in kiosks were designed and implemented by Wilf Medweth of IBM Toronto Markham (and of  there is SITA…). I personally worked on the Northwest Airlines check-in kiosk (built by NWA) which we tested originally in the food commissary of  Ford Motor in Detroit.
Airports are an unique deployment zone.  The domestic travel channel is one thread and then you have international (from US perspective) and that is divided into incoming and outgoing.  Those points also are focus points for the US government in several ways. Department of Homeland Security and Immigration control are involved. Flying thru Ft. Smith Arkansas versus New York versus London versus Schipol versus Dubai versus Abuja in Nigeria gives you some appreciation for the range of airport services.
One concern we have had is the ADA design and how these passport kiosks measure up to U.S. Access Board ADA standards. Currently we have 5 designs including DFW, IAH and SITA.  Canada seems to be adopting more of the US ADA regulations but not all.
Meanwhile the market for passport kiosks like these has been growing leaps and bounds. Maxine Most with Acuity:
According to Acuity's latest count, there are 737 operational APC kiosks in North America with another 164 targeted to go live by Spring 2015. This is up from just 280 In February 2014 and will bring the total number of APC Kiosks located in the United States, Canada, and now in the Caribbean, to 901 by early next year.

The Vancouver Airport Authority, the original developer of APC Kiosks, leads the market with deployments at 17 airports representing more than 60% of total kiosk market share. SITA is a distant second with 126 APC Kiosks installed at five airports.Acuity expects APC Kiosk numbers to continue to grow rapidly as they migrate across the Americas to Europe, Asia, and the Middle East conservatively projecting the global market for APC Kiosks will reach 8,000 by 2018.
For more details, check out Acuity's latest research publication, the"APC Kiosk Deployment List".
Onto the interview with Christopher of YVR.
SELFSERVICE.IO:  CBP Process — so the only interaction with customs personnel is to show the receipt?  (that's nice).
CHRISTOPHER: Yes, the program encompasses a two-step process:  kiosk input by the traveller and verification of documents by an officer.   By having travellers complete the administrative function themselves, the entire process is quicker and more efficient.  Wait times are reduced up to 50%; and the technology allows the officers to do what they do best—perform the final, in-person identity verification.
---
SELFSERVICE.IO:  When & where was the first kiosk installed?
CHRISTOPHER:  Vancouver Airport Authority (YVR) introduced to the industry the world's first no registration, no fee and no chip-enabled passport required self-service border control solution that could be used by virtually any government and airport in the world.  Our application for Canada Border Services Agency, named Automated Border Control, was launched in Vancouver in 2008 and our second application for US Customs and Border Protection, named Automated Passport Control, was launched in Vancouver in 2013.
---
SELFSERVICE.IO:  And now — You essentially have 520 kiosks now in 17 airports?
CHRISTOPHER: By the end of the year, we will be operating in 19 airports with over 500 kiosks.
---
SELFSERVICE.IO:  SITA is nearest competitor with 5 airports, GCR in IAH, Dedo in DFW — right?
CHRISTOPHER:  Yes, SITA is a distant second, and other competitors, including GCR, Dedo, and IBM, are in just 2 airports each.
---
SELFSERVICE.IO:  Fair to say the benefits to the travelers is an average of 50% reduced wait time?
CHRISTOPHER:  Studies at Vancouver International Airport and Chicago-O'Hare  provided the following results for our Automated Passport Control solution:
4X the number of passengers processed per U.S. Customs and Border Protection Officer
With traditional methods, a U.S. CBP officer can only process approximately 41 passengers per hour. With APC, CBP officers can process 162 passengers per hour.
89% less time spent through the entire primary process per eligible passenger
With traditional methods, it takes approximately 37 minutes to complete the customs process. With APC, that time is slashed to approximately four minutes..
58% reduction of space required per peak hour passenger.
With APC, each passenger in peak hours uses just 5.8 square feet of space, compared to 13.8 square feet in a traditional queuing-only format.
33% less time spent in a queue for all passengers (APC and non-APC)
With traditional methods, it takes approximately 50 minutes to complete the customs process. With APC, that time is reduced to approximately 33 minutes for all passengers, whether they use APC or not.
---
SELFSERVICE.IO:  One of the advantages you point to is your fully hosted solution and speed of deployment. Can you talk about that?
CHRISTOPHER: For our Automated Passport Control solution, we manage all of the communications with US Customs and Border Protection through established and secured networks.  This means that airports can be up-and-running faster than using any of our competitors. Unlike all of our competitors, YVR's solution does not require special IP addresses to be issued by US CBP for each site deployed. We host the solution and have IP addresses already established with CBP.
This arrangement saves our customers a minimum of 8 weeks for implementation. Our quickest installation time, from contract signing to going live, was 16 days in Seattle!
---
SELFSERVICE.IO:  For models — you have a Standard Kiosk, and you also have a Premium Kiosk. Why two models?
CHRISTOPHER:  We offer two models, both fully ADA complaint , both capable of providing service in up to 26 languages, and both minimize the use of moving parts which increases reliability and reduces electrical consumption.  We initially launched with the Premium model but soon after introduced a Standard, "slim line" model that requires less floor space which is ideal for airports with smaller customs facilities.
---
SELFSERVICE.IO:  Can the process be quicker and easier using smartphones?
CHRISTOPHER:  We believe that quick and efficient border control is best managed by offering a variety of different processes ranging from traditional inspections to trusted traveller (registered)   programs to our self-service technology which is designed to process every traveller – not just a select few.
I believe a mobile version of Automated Passport Control technology (MPC) compliments the kiosk application nicely.  We are working with the developer of MPC, Airside Mobile, to offer our customers access to a BorderXpress-branded version in early 2015.
---
SELFSERVICE.IO:   Where do you see BorderXpress 2 years from now?
CHRISTOPHER:  With the success of developing self-service border control applications for two governments, Canada and the United States, we are now in the market offering airlines and airports around the world access to a solution that can be configured to meet the language and admission requirements of any jurisdiction.   With global travel on the rise amidst increasingly limited resource budgets, we see huge potential for our newest border solutions.
SELFSERVICE.IO:    Thanks Christopher for taking time.
Reference spec sheets:
BorderXpressPRE-ESTA-SpecSheet_r08
BorderXpressSTD-ESTA-SpecSheet_r07
Innovative Travel Solutions
YVR BorderXpress
---
UPDATE:
This was a good opportunity to check with C. Maxine Most of Acuity Market Intelligence as well as the new Director of Marketing with SITA AERO.   Maxine is the expert analyst for the market.
Numbers are a moving target for sure but as of 11/27/2014 it is safe to say that overall there are 801 units installed with 164 planned.  The last numbers from SITA, for APCs specifically, are  7 airports and 190 units. SITA provides several different self-service models used inside airports, not just APCs.
For more research contact C. Maxine Most, Principal with Acuity Market Intelligence.  Tel: 303-449-1897, cmaxmost at acuity-mi.com
---
Update Dec 11 from Acuity
Nearly 1650 Automated Border Control (ABC) eGates Deployed Globally
Dear Craig,
Acuity's latest research release, the Automated Border Control (ABC) eGates Deployment List , is now available for purchase at the Acuity website.
According to Acuity's December 2014 count, there are 1644 operational ABC eGates worldwide. Nearly 50% of the total number of eGates deployed at all airports, seaports and land borders are in Asia. However, Europe leads in airport deployments with nearly 40% of global units.
Acuity expects ABC eGate numbers to continue to grow as they move from pilot and initial deployment phases to full scale roll out as is now taking place in both the United Kingdom and Germany. While eGates will increasingly be used at land borders and seaports, today these border control points represent just 4.7% and 22% respectively, of all eGate units deployed.
Spreadsheet provides details on each eGate deployment including number of eGates, the location of eGates, installation date, vendors, what type of biometrics are used, what tokens, if any, are required, who qualifies, is registration required, etc., as well as regional and vendor market share information. Preview the spreadsheet headersand buy the deployment list.
Additional insight into the ABC marketplace:
SAVE When You BUY More Than One!
$3,000
SAVE $ 490
Purchase the Automated Border Control (ABC) eGates Deployment Listand theAutomated Passport Control (APC) Kiosk Deployment ListTOGETHER.
$1,490
SAVE $2,000
Add both the Automated Border Control (ABC) eGates Deployment Listand theAutomated Passport Control (APC) Kiosk Deployment Listto a PURCHASE of any license forThe Global Automated Border Control Industry Report: Airport eGates and Kiosks
Please contact me directly at [email protected] or at +1 720 530 5836 to take advantage of this special offer.