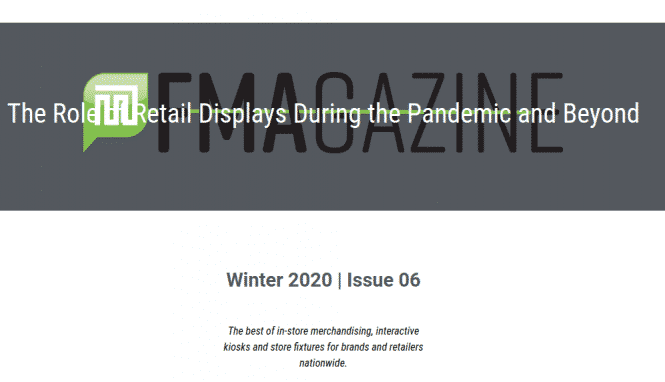 Retail Display Insight by Frank Mayer and Associates, Inc. blog Jan2021
Editor Note: Every year we look forward to the insight on the retail market that only Frank Mayer and Associates, Inc. provides. The past months have been challenging with the pandemic but now is the time to put in place effective strategies for retail displays.
The best of in-store merchandising, interactive kiosks and store fixtures for brands and retailers nationwide.
The FMA Magazine Winter 2020 issue includes articles on:
The Role of Retail Displays During the Pandemic and Beyond
Not only are retail displays playing a crucial role during the pandemic, but this period will also influence merchandising display design going forward.
Workplace Temperature Kiosks Help Businesses Mitigate the Spread of COVID-19
Employers should include workplace temperature screening kiosks as part of onsite safety protocols to prevent COVID-19 spread.  Learn why.
Can Self-Service Kiosks Offer Support in Today's Retail Conditions?
As the retail industry slowly regroups, self-service kiosks can offer the safety and customer experience shoppers currently desire.
Common Challenges When Planning a Visual Merchandising Campaign (And Their Solutions): Short Lead Times and Other Special Circumstances
The fourth and final installment of our series addresses short lead times and other special circumstances that arise when planning merchandising programs.
Be sure and read the entire article Retail Display Insight by Frank Mayer and Associates, Inc. blog Jan2021