Meridian, a leading manufacturer of outdoor kiosks, deployed a new outdoor kiosk model in downtown Kansas City last week in partnership with Smart City Media, according to a press release from Meridian. The interactive kiosks are part of Kansas City.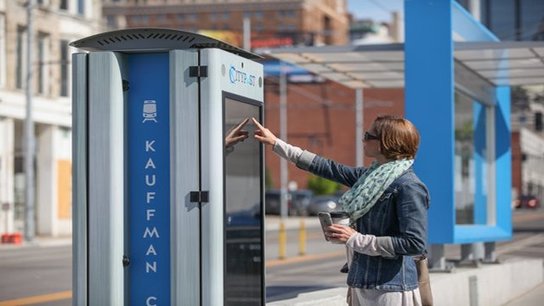 Source: www.digitalsignagetoday.com
The outdoor kiosks, located at Kansas City Streetcar platforms and throughout downtown, enable travelers to check the arrival time of the next streetcar, offer Kansas City locals and tourists access to city services, and display information about local restaurants, activities and events, the release stated.
"We're extremely excited to be part of this transformative initiative; it's a huge technological shift for Kansas City," said Chris Gilder, CEO of Meridian. "We had just over three weeks to build, test and install the kiosks. A lot of things had to go right in order for that to happen, but we're very happy with the outcome."
Kiosk users can sync their smartphones to the kiosk with a mobile app to save and share information. For example, Kansas City Streetcar travelers might see an ad for dinner at a local restaurant. They are then able to pull that information onto their mobile device to access again at their convenience.