Automated Passport Kiosks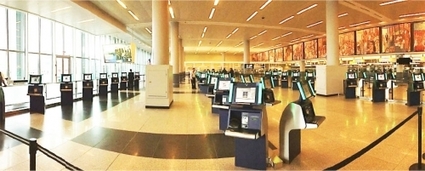 The latest airport and airline news. In this section General News, everything about B2B aviation news
Source: www.airport-world.com
SAN FRANCISCO — the San Francisco International Airport (SFO) today unveiled 40 new Automated Passport Control kiosks to expedite the customs entry process for international arriving passengers.  The kiosks allow eligible international travelers to submit their customs declaration form and biographic information electronically, thereby reducing the time they spend with a U.S. Customs and Border Protection (CBP) officer.  Individuals can complete the process in approximately 90 seconds.
"We are committed to improving the arrival experience for our international travelers, and these new Automated Passport Control kiosks provide an easy way to speed through the customs process," said Airport Director John L. Martin.  "International traffic continues to grow at SFO, and this automation will help ensure that our customs facility can efficiently accommodate the increased activity."
"U.S. Customs and Border Protection remains committed to making the international arrivals process as traveler-friendly as possible by offering new and innovative technology to streamline the process," said Brian J. Humphrey, CBP Director of Field Operations in San Francisco.  "APC kiosks have been proven to reduce wait times for the ever-growing number of international visitors without compromising our important border protection mission."
The system is currently available to U.S. and Canadian passport holders, Lawful Permanent Residents, and international visitors under a visa waiver program.  Travelers follow touchscreen instructions, available in 13 languages, to scan their passport and answer customs declaration questions.  Successful users are then issued a receipt confirming their information, which is shown to a CBP officer for final processing before proceeding to international baggage claim.
Through a competitive selection process, Innovative Travel Solutions, a business unit within the Vancouver Airport Authority, won the bid to install and maintain the 40 BorderXpress kiosks for a contract amount of $2,450,000 over a three-year period.
"We're proud to partner with SFO to improve the international travel experience for passengers," said Craig Richmond, President & CEO, Vancouver Airport Authority.  "By automating part of the border clearance process, BorderXpress helps U.S. CBP officers process up to four times more passengers than traditional clearance.  With this increased efficiency, international travelers arriving at SFO will experience shorter wait times, less congestion and faster customs processing times."
In 2014, international traffic at SFO grew 5.5%, and over 4.4 million passengers arrived through the customs facility.  SFO recently welcomed a new international airline, Turkish Airlines, with nonstop service from Istanbul.  In addition, several airlines, including British Airways and Emirates, have increased the number of available seats to SFO, through use of Airbus A380 aircraft.
S-F-O
About San Francisco International Airport
San Francisco International Airport (SFO) offers non-stop flights to more than 38 international cities on 32 international carriers. The Bay Area's largest airport connects non-stop with 78 cities in the U.S. on 15 domestic airlines. SFO is proud to offer upgraded free Wi-Fi with no advertising. For up-to-the-minute departure and arrival information, airport maps and details on shopping, dining, cultural exhibitions, ground transportation and more, visit www.flysfo.com. Follow us on www.twitter.com/flysfo and www.facebook.com/flysfo.