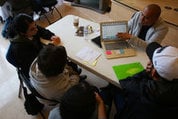 Outerwall Inc. lowered its financial guidance Monday and said the head of its Redbox division was leaving as DVD rentals from its kiosks plummet.
Shares slid 22 percent in extended trading Monday. They have already dropped 23 percent this year, closing Monday at $58.06

At a time when more consumers are streaming video over the Internet, Outerwall said its Redbox DVD business had sunk to a four-year low in the September quarter.

Despite increased spending on promotion, Outerwall said Redbox has not met company expectations for the current quarter, based on results through the end of November.

CEO Erik Prusch will temporarily assume the duties of departing Redbox president Mark Horak.

Outerwall lowered its 2015 earnings projections to $7.65 to $8.15 per share, after adjusting for one-time items, down from a range of $8.82 to $9.52. That's far below analysts' estimate of $9.50 a share, according to FactSet.

It cut its revenue guidance to $2.17 billion to $2.19 billion, down from $2.21 billion to $2.24 billion. Wall Street had predicted $2.23 billion.

The Bellevue, Washington, company also said it's shutting down a line of kiosks that sold beauty and cosmetics products, less than a year after launching that business.

Outerwall also operates Coinstar money kiosks and ecoATM kiosks for electronics recycling.
Source: www.nytimes.com