BIOMETRIC SCANNERS – THE FUTURE OF KIOSK SECURITY IS NOW!
Biometric security is on a rapid growth curve, and the market for biometric scanning devices is expected to reach $13.8 billion in 2015>[1].  Traditionally, biometric security methods have been employed by government agencies, but with the use of biometric security in consumer devices, such as smart phones and laptop computers, the consumer sector is starting to see rapid growth in the deployment of biometrics.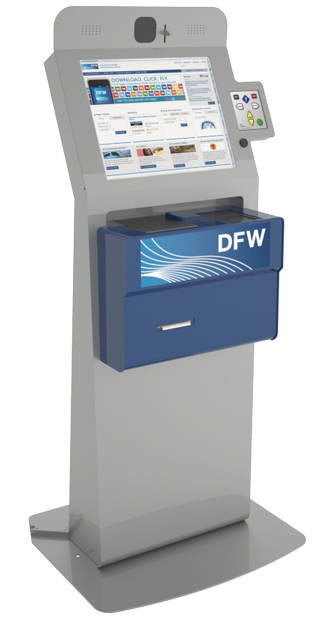 One measure of the consumer usage of biometrics is through the download of biometric-enabled mobile applications.  Juniper Research estimates that the download of biometric authentication applications will grow quickly over the next five years from the current level of 6 million downloads predicted for 2015 to an estimated 770 million biometric application downloads in 2019.  This is largely driven by Apple's Touch ID authentication system which is at the forefront of the consumer biometric expansion.
Similarly, the number of users of biometric security devices is expected to grow to 2.5 billion users with 4.8 billion devices by 2020.  It is predicted that within the next three years, biometrics will become standard on smartphones and other mobile devices.
The Growth of Biometrics in Kiosks
While biometric security measures have been available for some time, they have largely been utilized in the government space, but as consumers continue to build comfort with these devices, they will become a common element in self-service applications, such as retail kiosks and healthcare kiosks.
Biometric devices offer two distinct advantages over traditional knowledge-based (e.g. passwords) and credential-based (e.g. ID cards) security systems:
Accuracy of Identification – Because biometrics analyze the distinctive and measurable characteristics of an individual, they are much more accurate than a knowledge-based or credential-based security model, both of which are susceptible to security breaches.
Convenience – Similarly, because biometrics analyze the personal attributes of a human, such as an iris scan or a fingerprint scan, there is no issue with an individual forgetting their password or credential. Additionally, most biometric scans are very fast, so access is typically granted quickly and conveniently.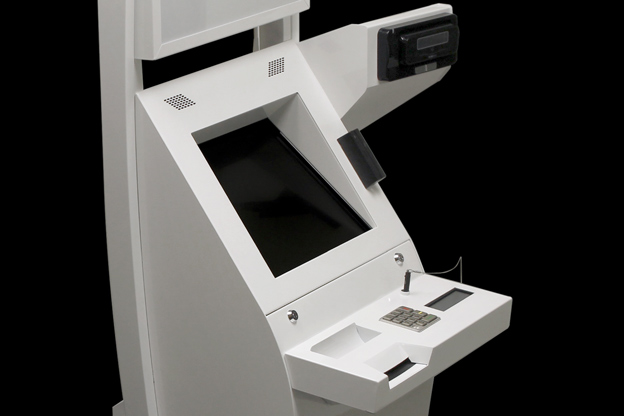 In addition, biometric security solutions are scalable in that there are different types of scanning measures available to provide different levels of accuracy and security.  The most basic biometric scans use a "unimodal" or measurement of a single biometric attribute, such as a fingerprint scan.  Multimodal scans provide a heightened degree of security by either measuring multiple physical attributes (e.g. scan both a fingerprint and an iris) or utilize multiple scans of the same physical attribute (e.g. 3-D palm scan that measures multiple attributes of a palm print).
With dozens of different types of biometric security measures now readily available, and an increased level of consumer comfort with these security methods, it is expected that these will become a standard component on self-service machines in the near future.  A quick fingerprint scan on a patient check-in kiosk in a doctor's office will provide customers with an efficient and highly secure method of confirming their identity.  Similarly, as more retail kiosks are outfitted with ubiquitous mobile payment systems, such as Apple Pay, the use of a quick fingerprint scan to access a user account will provide a level of security and convenience never before seen.
Contact Olea Kiosks today to find out how Olea's biometric security technology can be implemented to provide a cutting edge self-service kiosk solution for your business.
[1] https://www.csoonline.com/article/2891475/identity-access/biometric-security-is-on-the-rise.html