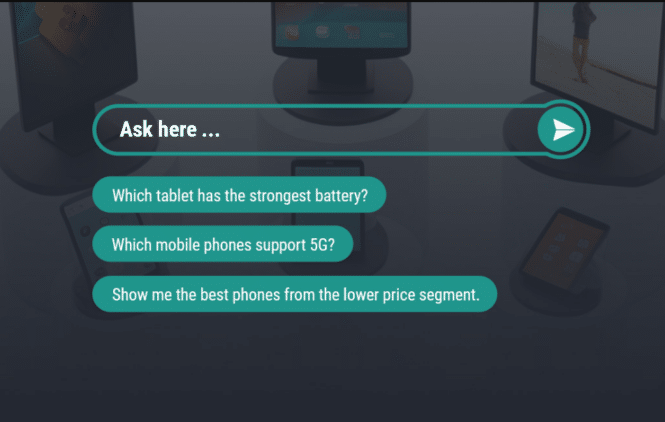 SiteKiosk Online introduces AI Advisor Kiosk Mode
The utilization of artificial intelligence has become a reality for SiteKiosk Online.
Over the past few months, a prototype of an AI-driven product advisor has been developed. This advisor offers suitable product recommendations and information by engaging users with specific questions and providing tailored responses.
The fusion of artificial intelligence and modern kiosk technology elevates the in-store shopping experience. By analyzing customer queries and preferences, the AI determines which products and deals might pique the user's interest, displaying them graphically alongside detailed background information. Users can explore the product range by following suggested or customized questions, ultimately helping them find their desired product.
The architecture of PROVISIO's AI Product Advisor bears a resemblance to the widely recognized AI software, ChatGPT. The AI advisor's dataset encompasses all essential product information and can be continuously expanded by incorporating knowledge from various sources, such as user manuals.
Thanks to its extensive dataset, the AI can also tackle unexpected inquiries. For instance, if a customer needs guidance on activating a specific feature on their smartphone or tablet, the AI product advisor can promptly provide the relevant instructions, whereas a human employee might need to consult a physical manual. It's important to note that the user manual must be available in digital text format for semantic search to function. Therefore, the AI product advisor not only aids customers during the product discovery phase but also assists on-site employees by streamlining manual look-ups.
Expansions to prompts and datasets are implemented manually, allowing adaptability to search trends and the incorporation of new products and special offers. Outdated data can be easily removed.
The use of AI in conjunction with kiosk solutions can enhance a wide range of product advisor and sales use cases. Through AI integration, even products outside the mainstream or niche markets can be effectively targeted toward end consumers.
The PROVISIO team is ready to address any additional inquiries regarding the integration of AI into kiosk projects and is available for live demos of the software!
The full news article:
https://www.sitekiosk.com/news/first-ai-based-feature-developed-for-sitekiosk-online/
More AI Advisor Related Links