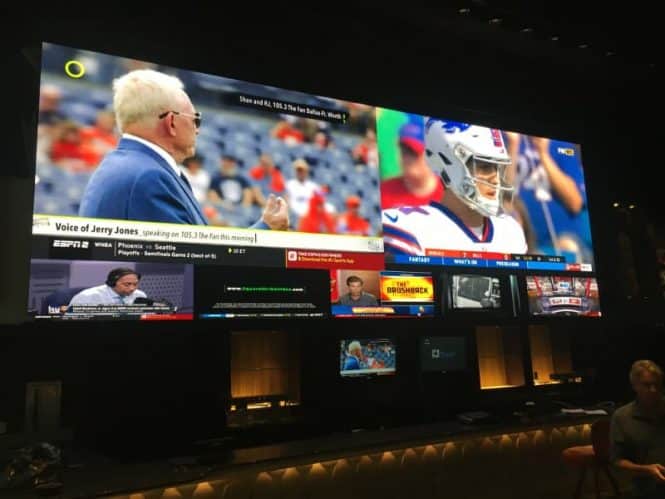 Colossal Direct View LED Display For Bar


Northern Quest Resort & Casino, located in Spokane, Washington, offers luxurious accommodations, Vegas-style gambling, a spa, and over one dozen restaurants, bars, and lounges. One of the most popular spots in the resort is EPIC Sports Bar, a comfortable sports bar featuring upscale pub fare.
Open daily at 7 am, EPIC's guests can enjoy viewing sporting events at any time of day – breakfast, lunch, or dinner.
Like all sports bars, EPIC's crowds and varying event types make high quality displays a must for patrons. However, constructing and maintaining a large screen was a challenge. The bar originally relied on an old TV screen, which was then upgraded to a movie screen and two sizable projectors that would play content. However it was difficult, if not impossible to clean the screen and when the HVAC system was in use, the screen would shake. Further, the projectors proved to be quite noisy and replacement costs were astronomical.
The Solution
With these issues in place, Northern Quest Resort & Casino decided to seek out a digital signage option for EPIC that would best showcase sporting events and entertainment, while meeting the resort's high aesthetic standards.
In summer 2017, the resort began conducting research, turning to its longstanding installation partner, YESCO, for help with the project. YESCO next sought to find a display and mount that would best meet EPIC's needs. Based on past experience and a strong partnership, YESCO selected Samsung for its IFH LED displays. With trusted recommendations, along with video wall expertise, quality hardware, and a comfortable price point, YESCO chose Peerless-AV as the mount manufacturer for the project.
An additional benefit of working with Peerless-AV was SEAMLESS by Peerless-AV ® , the company's LED video wall integration program that provided start-to-finish support throughout the project. Peerless-AV's dedicated SEAMLESS LED Solutions Team sets the bar for high quality design, incorporating a dynamic group of structural and mechanical engineers, product managers, project managers, installers, and sales and service personnel, which were all available to YESCO and Northern Quest Resort & Casino.
Download the full case study
[easy_sign_up title="To quick download the whitepaper we do ask for some contact information to discourage autobots and also in case our sponsors would like to contact you." fnln="0″ esu_class="my-class" esu_label="Peerless EPIC Case Study" esu_r_url="https://kioskindustry.org/wp-content/uploads/2019/02/EPIC-Sports-Bar-Northern-Quest-Casino-Resort_Case-Study.pdf"]
More Peerless Information