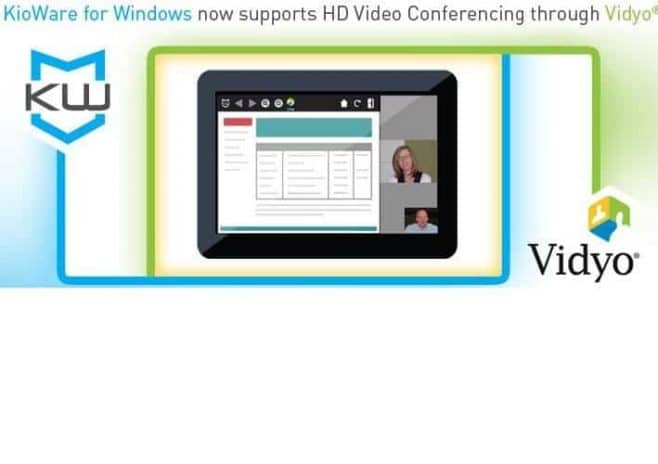 Kiosk Software Video Conferencing
Now available: Version 8.3 of the new KioWare for Windows kiosk software now offers support for on demand video conferencing via VidyoWorks™. Leveraging this integrated Vidyo® solution, kiosks and other customer facing self-service devices can be easily configured to create a secure solution for on demand interaction and video chat with a representative. Vidyo offers video collaboration solutions for companies that require the highest quality video interaction available.
The ability to simply and easily add VidyoWorks video interaction to your customer facing self-service device or kiosk is a game changer for retailers, healthcare facilities, educational organizations, hospitality industry organizations, and more.  Do you have an expert in California, and a customer in Georgia?  With no programming and no delay, the kiosk can be used to assist in bringing your customer service team face to face with your customer, on demand.
Jim Kruper, President and Founder of KioWare offers,"Customer facing kiosks and purposed devices can simply and securely establish a high quality, on demand video interaction with customer service, sales, support, or other organization specialists.  With KioWare's integration of VidyoWorks™, providing secure, expert video assistance on-demand is now a click away."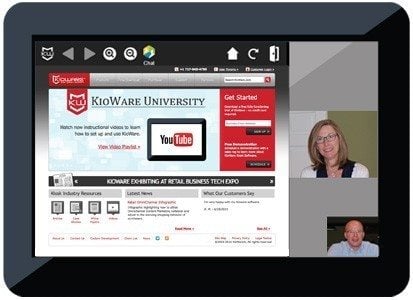 Additional key new features of KioWare for Windows Version 8.3 include:
Native PDF Rendering – Allows for the viewing of PDFs natively when navigating to websites/applications displaying PDF files
Run applications at launch – Ability to launch a list of applications when KioWare is launched.
Support for Basic Authentication – Allows KioWare to automatically log into websites that require basic authentication.
Local Folder/Attract Mode for Secondary Monitors – Supports utilizing the Attract Screen Looper Feature on secondary monitors.
Custom Zoom Level Support – Custom default zoom levels can be set for docked browsers, secondary displays, and attract screens.
Image Capture from File Upload Control – Support for capturing an image directly from a file upload control on a web page.
Toolbar Features Added – Caps, Num, Scroll Lock & Battery level indicators and controls have been added to the custom toolbar.
Upgrade to Chrome 45 – The browser is now upgraded to Chrome 45.
Latvian Language Virtual Keyboard – A Latvian language virtual keyboard has been added.
KioWare Basic and KioWare Full have added the aforementioned new features plus:
Support for Larco Security Mats
Chip DNA 1.10 – Offering EMV compliant devices and support for an expanded device list.
KioWare Full also now allows for monitoring supported devices with KioWare Server or KioCloud Kiosk Management options. 
The new KioWare for Windows has one single installer for all models (Lite, Basic, & Full) of the product. Potential and current customers can download KioWare for Windows and determine which model is needed before purchasing the appropriate license.
KioWare for Windows Version 8.3 is available for download and purchase: http://www.KioWare.com/windows.aspx.  Licensing is perpetual and annual support is recommended in order to maintain access to the most recent version of the product.  If you would like to convert your licenses fromKioWare Classic for Windows to the new KioWare for Windows, log into your customer account, select a transaction, and click the "convert license(s)" button.
All KioWare kiosk software products secure devices such as tablets, desktops, and smartphones running Android or Windows Operating Systems.  KioWare kiosk software products lock down your device into kiosk mode, which secures the overall operating system, home screen and usage of applications.  KioWare Kiosk Management tools (KioCloud, KioWare Server, & KioWare Server ASP) allow for remote kiosk management, usage statistics, reporting, monitoring kiosk health, content management and more.  For a full description of new features for the entire product line visit:
http://www.kioware.com/news.aspx?nid=265.
All of these products are available as a free trial with nag screen at http://www.kioware.com/download.aspx.
About KioWare:
KioWare kiosk software secures your application or website on Windows or Android devices, restricting user access to approved behaviors and protecting user and network data.  KioWare is fully customizable and offers solutions ranging from browser lockdown to full server-based kiosk management.  From simple out of the box configurations to more complex integrations, KioWare is trusted by developers, IT professionals, marketers, Fortune 100 corporations, and small business owners. The KioWare team is based in York, Pennsylvania, with an office located in Reading, UK.  Choose the best KioWare product for your self-service project and download a fully functioning free trial at KioWare.com.