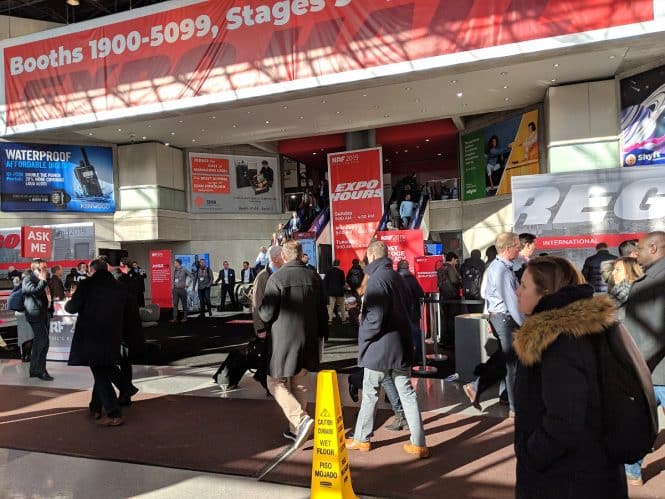 Editors Note: first published on Meridian website.

Aberdeen, NC – February 4, 2019 – Meridian, an industry-leading kiosk manufacturer and software developer recently teamed up with technology giant, HP Inc., once again. This year, the pair combined their technological expertise to create two different innovative digital retail solutions, which they introduced to the market at the National Retail Federation's (NRF) 2019 Big Show in New York City.
The two retail solutions included a freestanding kiosk with a 32" touch screen and a countertop kiosk with a 14" screen. While aesthetically different, both kiosks function as a three-in-one solution—with self-checkout, endless aisle, and digital signage capabilities.
While the solutions were designed and manufactured by Meridian, both kiosks were designed to incorporate HP's hardware. The freestanding unit was powered by the HP MP9 and the countertop unit was powered by the HP Engage One All-in-One. Both units also incorporated barcode scanners, contactless NFC payment devices, and touch technology—enabling users to make in-store purchases, browse available inventory, order online, and indicate shipping and receipt preferences, all from the kiosk.
"To excel in the fast-paced kiosk technology industry, you need forward thinking partners with creative ideas and proven expertise in the kiosk field—organizations that can propose and implement not only traditional solutions, but also innovative applications," said Meridian's Marketing Manager and NRF attendee, Stephanie Mewherter. "Meridian and HP have this kind of relationship. Together, our relationship provides end-to-end solutions, from consulting and designing a kiosk, to the integration of the hardware, software, and security monitoring."
Meridian joined forces with HP at the Big Show last year as well—unveiling an retail-focused automated smart locker system.
Held at the Jacob K. Javits Center, the annual event is the world's largest retail conference and expo. This year's event attracted more than 37,000 attendees, 16,000 retailers, and 700 exhibitors.
To learn more about Meridian's self-service retail kiosk solutions, visit https://www.meridiankiosks.com/industries/retail-kiosks/ or email [email protected].