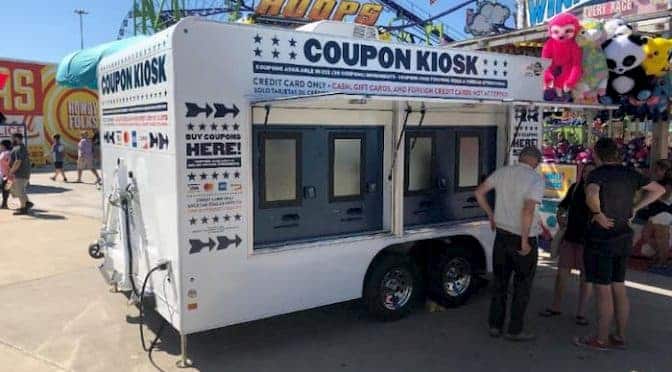 Mobile Kiosk or PortableKiosk Trailer

Portable kiosk product from TurnKey Kiosks.
Introducing the first portable temporary mobile kiosk trailer.
Capable of holding up to 8 kiosks in a thru wall configuration, this unit can give your site a boost in kiosk sales. The trailer is completely moveable and can be configured to be completely self-sufficient or connect to existing infrastructure and payment gateways to allow
an additional 8 kiosks to sell tickets, passes or whatever your enterprise needs to sell and/or dispense.
The trailer is fully heated and cooled and is hardened to allow it to be installed virtually anywhere you need it and in any weather. Place the unit where you think your customers will most benefit and reduce line ups, reduce wait times and improve customer satisfaction.
Mobile Kiosk Components
23.6" PCAP Outdoor Touchscreen, Portrait mode, w/Security Shield
HP PC
Boca Printer – Ticket transport
Star Printer – Receipt, 80mm
Ingenico Payment Device
UPS
Air Conditioning
Vendor Hard Awning
Shelves for supplies and equipment
Options
11/4/2019
Cash Accepting and Dispensing
Optconnect 3G/4G
Generator – Onboard
Heater
Other components
For more information Contact Us
[contact-form to="craig@catareno,[email protected]" subject="KI Contact Form TurnKey Mobile Trailer"][contact-field label="Name" type="name" required="1″][contact-field label="Email" type="email" required="1″][contact-field label="Message" type="textarea"][/contact-form]
Related Information