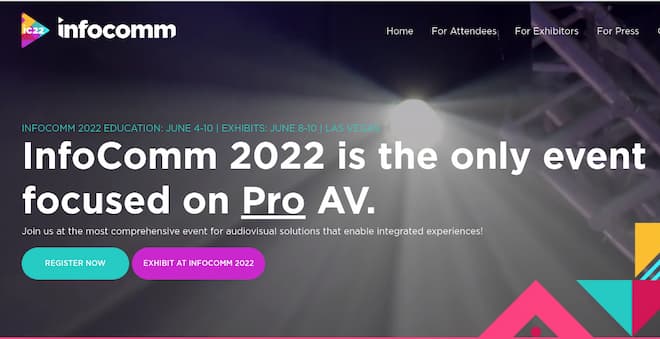 Kiosk Association Media Partner for InfoComm 2022
February 2022 Denver – The kiosk association is continuing to serve as an official media partner for the Infocomm tradeshow June 8-10 in Las Vegas. InfoComm 2022 is the once-a-year opportunity to see the latest audiovisual technology, learn the skills that will advance your career, and grow your professional network.  We first became a media sponsor in 2021.
"The members of the kiosk association are much more diverse than just kiosks. Digital signage technology both hardware and software are integral to their complex business opportunities", says Craig Keefner, manager for the association. InfoComm, ISE and now DSE are the new "must-be involved" list for our sponsors with strong digital signage and digital display technology.
Some of our members who have booths
There will be many more members "embedded" in the booths. That could be 22Miles software in the CISCO booth e.g.
For more information and a free exhibits-only registration contact [email protected]
ABOUT INFOCOMM
InfoComm is the most comprehensive event for audiovisual solutions that enable integrated experiences, with products for audio, conferencing and collaboration, digital signage, content, production and streaming, video capture and production, control, and live events.
QUICK LINKS
REGISTER
HEALTH & SAFETY PROTOCOLS
SHOW RULES
FUTURE DATES
CONTACT US
More Information
Press Release
FOR IMMEDIATE RELEASE
PRESS CONTACT:
Krystle Murphy, Communications Manager, AVIXA
Email: [email protected]
Phone: +1.703.279.6366
 InfoComm 2022 Registration is Officially Open for Las Vegas June 4-10
 FAIRFAX, VA – Feb. 10, 2022 – InfoComm 2022, produced by AVIXA, will return to Las Vegas June 4-10, 2022, at the Las Vegas Convention Center. Registration is officially open at www.infocommshow.org.
"We are ecstatic to bring InfoComm back to the always exciting city of Las Vegas," said David Labuskes, CTS, CAE, RCDD, CEO of AVIXA. "InfoComm is the home for commerce and connections for the pro AV industry – one week, one place where you can accomplish so much to push your business and career forward."
InfoComm will take place in the North Hall and newly constructed West Hall of the Las Vegas Convention Center (LVCC). The West Hall is a $1 billion expansion to the LVCC providing an additional 1.4 million square feet of new space and featuring the largest digital display experience in a convention center in the U.S. The Las Vegas Convention Center Loop system is also new for InfoComm 2022. The three-station underground transportation system developed by Elon Musk's The Boring Company shuttles convention attendees throughout the 200-acre campus in all-electric Tesla vehicles.
InfoComm 2022 will explore the largest, fastest growing, and most critical pro AV solutions that drive this $257.7 billion industry. The trade show floor and education program will spotlight conferencing and collaboration; content, production, and streaming; digital signage, learning technologies, live events, audio, and much more.
The education program kicks off with technical training three-day courses and CTS, CTS-I and CTS-D Prep on June 4-6. The show's 12 education tracks and manufacturer's training will take place on June 7-10.
In addition, on June 7 and 8, AVIXA and the Digital Signage Federation will host the D=SIGN digital signage conference to examine the solutions, innovations, and big ideas around digital signage.
InfoComm attendees can also find valuable insights at the Technology Innovation Stage on the show floor June 8-10. These free sessions will feature New Technology Lightning Rounds highlighting new products, industry trend forecasts, and more.
During the week of the show, Integrated Experience Tours will be hosted around Las Vegas spots where attendees can see stunning AV deployments in the real world and hear from the creators behind them. The tour of the University of Las Vegas will take attendees through the renovation of the Flora Dungan Humanities building which features a Dolby Atmos theater. At the Illuminarium, attendees will be treated to an immersive experience powered by 4K interactive projection, 360° audio, in-floor vibrations, and scent systems. Another tour will take place at the new West Hall of the Las Vegas Convention Center, which features a 10,000-square foot video wall, overhead directional digital signage, and interactive 3D wayfinders.
InfoComm 2022 will host many AVIXA council events including the Women's Council Breakfast, Technology Managers Forum, Live Events Forum, and All-Council Luncheon. In addition, the Young AV Professionals Council and Diversity Council will host sessions on the Technology Innovation Stage.
"It's been four years since we've hosted InfoComm in Las Vegas and we look forward to returning this June," said Rochelle Richardson, CEM, Senior Vice President of Expositions and Events, AVIXA. "The AV community is going to be treated to new sights – from the brand-new West Hall at the convention center to exciting new AV tours around the city. Las Vegas offers state-of-the-art venues, exceptional culinary and hospitality experiences, and is an electric place for business professionals to gather, network, and collaborate – an ideal meeting place for the AV industry with health and safety as a priority."
To learn more about InfoComm 2022 and register to attend, visit www.infocommshow.org
InfoComm 2022 is sponsored by Strategic Show Partners Blackmagic Design and Crestron.
AVIXA is committed to the health and safety of exhibitors, attendees, partners, and staff amid the COVID-19 pandemic. InfoComm 2022 will require all participants to be vaccinated and wear masks indoors at the LVCC and on shuttle buses. The AVIXA team will continue to monitor recommendations from local health authorities, the World Health Organization (WHO) and Centers for Disease Control and Prevention (CDC) and communicate any updates to health and safety protocols to show participants. For the most up-to-date information on health and safety, visit www.infocommshow.org/health.
Download: InfoComm Logo  
About InfoComm
InfoComm is the largest technology exhibition and conference in North America focused on the pro AV industry. The exhibition is produced by the Audiovisual and Integrated Experience Association (AVIXA), and currently ranks as the 28th largest trade show in the United States by Trade Show Executive. In addition, AVIXA and its partners produce a global portfolio of trade shows and conferences, including InfoComm China, Beijing; InfoComm India; InfoComm Southeast Asia; Integrate; Integrated Systems Europe; and Integrated Systems Russia.
About AVIXA
AVIXA is the Audiovisual and Integrated Experience Association, producer of InfoComm trade shows around the world, co-owner of Integrated Systems Europe, and the international trade association representing the audiovisual industry. Established in 1939, AVIXA has more than 20,000 enterprise and individual members, including manufacturers, systems integrators, dealers and distributors, consultants, programmers, live events companies, technology managers, content producers, and multimedia professionals from more than 80 countries. AVIXA members create integrated AV experiences that deliver outcomes for end users. AVIXA is a hub for professional collaboration, information, and community, and is the leading resource for AV standards, certification, training, market intelligence, and thought leadership. Visit avixa.org.