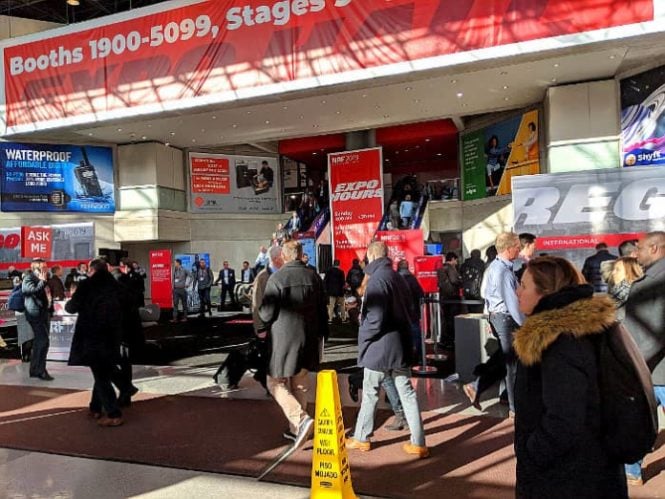 NRF 2023 – Kiosks, POS, Digital Menus, Order Terminals
The Kiosk Association is again exhibiting at NRF 2023 in New York. Here are some preliminary items.
Our portal page on NRF
Jan. 14: Opening Party | Jan. 15-17: Conference & Expo
Location: Jacob K. Javits Convention Center | New York City
Kiosk Association highlights
Recommended

Worth noting that search for kiosk results in 87 companies this year.
Show Specials
From AVIXA and Kiosk Association — Samsung, Oracle and Grubbrr partnership
From AVIXA and the kiosk association —
Press Releases
Elo (aka Elotouch)
We know touch – it's our only business.
Originally published on AVIXA — project briefs include Taco Bell, McDonalds, Panera Bread, CLEAR, Shake Shack, Carnival Cruise Lines
Products
NRF 2022 Recap Video
Events
There are all the sessions, vendor parties, store visits, shows and all kinds of things to do in New York as part of the NRF Show when we all gather in NY again. Having now attended the Big Show for over 30 years, here are my thoughts on the best outside events to network and have fun. Come early, enjoy the networking in a less hectic manner and enjoy the event. Look forward to seeing you at the show or these events.
These are ordered by the day.
Friday January 13th
VIP Awards – 6-10pm – Gotham Hall
There are many events that recognize retailers, this one allows retailers to celebrate the retail vendor community. This gala style event does just that and is a great way to catch up with friends you have not seen for a while and celebrate together.
Saturday January 14th
RetailROI SuperSaturday – 8am-2pm – Microsoft 11 Times Sq
A unique event of business content and networking, all for a greater cause, to help orphans and vulnerable children. Retailers attend free and generate enough sponsorships to provide clean water for 300 people just by being there. 100% of the vendor sponsor proceeds go to help orphans and vulnerable children. This "Tech and Tears" event brings the industry together and has helped over 265,000 children in over 27 countries.
Speakeasy @NRF – 6pm – ZUMA New York
For retailers only, this exclusive event in the internationally acclaimed restaurant will include a power panel of retail executives including Kroger VP of Transformation, Wes Rhodes.
Sunday January 15th
Retail Insiders Party – 9-11:30pm – Location TBD
The Retail Insiders Party is retail's class reunion! It may be difficult to locate friends at the show itself, but it's easy to find them here! This cocktail event brings together senior technology and transformation. Simply wonderful get together, always a blast.
Monday January 16th
RETHINK Retail Bash – 8-11pm Location TBD
This is the hottest new party of the show this year. Having been honored as a RETHINK Top Influencer in the past, I am really looking forward to celebrating together as RETHINK Retail announces the next wave of influencers at this great event.
Rock & Roll Retail Underground – 8:30-12am – The Cutting Room
Come enjoy your retail colleagues as they jam at this amazing event. Amazing talent and you will come away saying that maybe some of these people should quit their day jobs. An absolute blast and great way to end a long day of networking.
So, there you have it…there are a lot of great vendor parties as well, but after 30 years of shows, these are my 6 favorite events to come together to celebrate, help kids in need, or just have fun around NRF.
Related Posts
NRF Return on Investment ROI
Usually, shows are measured in business impact and specifically leads.  Our booth at 1606 was at the entrance of the lower level which is the best position on the lower level. There are multiple ROI equations depending on the company and the person. Our point of view is geared towards a kiosk manufacturer or component provider. As far as leads go:
If we normally received 200 leads in 2020, then in 2022 we received 25
Booth visitors are made up of A) those who seek you out, B) those who stumble onto you interested and C) those who stumble onto you just going through motions.
Our leads were A and B class
Retail customer interest likely represented 10,000 store locations. That's good.
Attendee traffic for the entire show was rumored to be a seventh of usual traffic  (40,000 is total from 2020)
The optimistic operative phrase for NRF 2022 is the quintessential "It only takes one"
NRF 2022 Photos
NRF 2022 Videos
Pretty slick produced video by NRF with the dramatic music and the emphasis on together again.
NRF 2022 Show Floor Walkaround Coincloud (Kim Kenney of KIS)
Event coverage from 2022
The inflation issue is real and persistent across all categories, says NRF CEO Matt Shay
January 18, 2022 | 'Closing Bell', CNBC
Adobe Is Betting On An Omnichannel Future With Its New Tech For Retailers
January 18, 2022 | Forbes
NRF 2022: PepsiCo CEO sees bond-building moments amid pandemic
January 18, 2022 | Retail Wire

Why NRF is taking the Metaverse very seriously
January 18, 2022 | Morning Brew
Walmart U.S. President and CEO Named Chair of NRF Board of Directors
January 18, 2022 | MarketScreener
Agility, adaptability and flexibility – Target CEO Brian Cornell's checklist for omni-channel retail in 2022
January 18, 2022 | Diginomica
NRF22: For Retailers, Artificial Intelligence Is One Solution to Solve Many Problems
January 18, 2022 | BizTech
2D barcodes could share far more product data than UPC standard, GS1 says
January 18, 2022 | Supply Chain Quarterly
Featured In 'Retail's Big Show' NRF Innovation Lab, Ottonomy Addresses The Need For Sustainability In Retail With Autonomous Delivery Robots
January 18, 2022 | AIT News Desk
Walmart U.S. President and CEO to Chair NRF Board
January 18, 2022 | Progressive Grocer
5 Key Trends Noted NRF 2022: Retail's Big Show
January 18, 2022 | Progressive Grocer
PepsiCo Foods' CEO on 5 Pandemic-Born Consumer Trends That Are Here to Stay
January 17, 2022 | Total Retail
What's Keeping This Ralph Lauren Exec Up at Night
January 17, 2022 | Sourcing Journal
Ralph Lauren CEO says metaverse is way to tap into younger generation of shoppers
January 17, 2022 | CNBC
Supply chain issues 'will persist for the rest of the year': NRF president
January 17, 2022 |  FOX Business
Walmart's U.S. CEO Explains How He Approaches Diversity and Inclusion
January 17, 2022 | Footwear News
Ralph Lauren Uses Metaverse to Target Young Shoppers
January 17, 2022 | Pymnts.com
National Retail Federation elects Walmart's Furner board chairman
January 17, 2022 | Talk Business and Politics
Ralph Lauren CEO says metaverse is a way to tap into younger generation of shoppers
January 17, 2022 | Bharat Express News
NRF 2022: The time is right to break into the Chinese market, says Alibaba exec
January 17, 2022 | Retail Week
NRF Keynote: Target's Brian Cornell Talks Supply Chain, Economic Headwinds and Holiday 2021
January 16, 2022 | Women's Wear Daily
Victoria's Secret Executive Talks International Expansion
January 16, 2022 | Women's Wear Daily

Thom Browne CEO Rodrigo Bazan Talks Store Expansion, Growth in China
January 16, 2022 | Footwear News
Walmart U.S President And Ceo John Furner Elected NRF Chairman
January 16, 2022 | ToyBook
Walmart's John Furner Named NRF Chairman
January 16, 2022 | Women's Wear Daily
Retail Group Says Its Trade Show – And Life – Must Go On, Despite Omicron
January 16, 2022 |  Forbes
Target CEO Says Being Early to a Store-Focused Approach Spurred Pandemic Era Success
January 16, 2022 | Footwear News
Inside the Sustainability Playbooks for Industry Leaders Walmart and Rothy's
January 16, 2022 | Footwear News
Chewy CEO: 'Customer Care is the Right Mantra to Focus on'
January 16, 2022 | Retail TouchPoints
Related Information