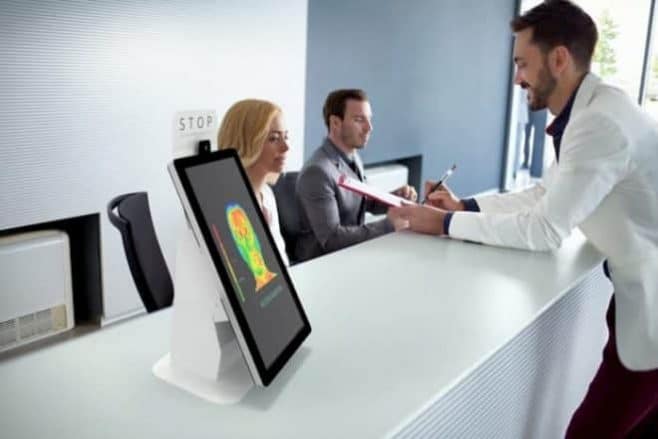 Temperature Kiosk Approved Solutions
Editors Note 2021:  Recently we see where infrared kiosk reseller is suing their supplier of temperature kiosks due to inaccurate results.  Temperature kiosks enjoyed a large popularity initially but buying cheap meant that most of the product was Chinese-based and employed cheap temperature sensors.  The temperature kiosks being deployed as of late 2021 are now equipped with state of the art FLIR and other temperature sensors designed for people.  Many of the Chinese units also used Chinese software from Dahua for their facial recognition. Dahua and HIK Vision are both blacklisted by the Federal Government.
Hygiene Theater Marriott
Deploying temperature kiosks to take a temperature verification check has generated much interest recently.  Temperature verification kiosks could be one strategy for re-opening business and assuring customers and employees of safety. Or they could be what the CEO of Marriott calls "hygiene theater"
There are three deployment models.
One is what we call "hygiene theater".  A lower resolution infrared scanner as a rule misses temperature variations but it does provide a certain psychological effect. We think we are ok is the intended effect.  These are single pixel or pixel array infrared screening systems. Independent test labs such as IPVM identified many as manufactured by BEM in China and being resold here by US companies. The sensors used (Melexis and Heimann) are designed primarily for microwaves, defrosters and A/C.
The next level is higher resolution bolometers and they can be identified as having a much larger pixel set. These are available typically for under $3000.  Nanonation and 22Miles offer these, and with a full range of supplemental software.
Finally we have thermal imaging camera solutions such as high-end FLIR. Kiosk Innovations in Colorado has a very nice unit that comes in multiple form factors.
Caution: Some of the low end Chinese-supplied systems come with facial recognition embedded in the tablet and those algorithms and server "touches" can be with blacklisted Chinese firms (Dahua & HIKVision). In a medical setting that can constitute a severe HIPAA violation. The Chinese systems will often tell you that scanning multiple people at the same time is possible.  Not possible. Alabama wasted a million dollars.
Example Video – High Resolution EBT Kiosk with Thermal Imaging
Some general observations:
Forget outdoors unless highly controlled
Anyone who says they scan multiple people simultaneously will also sell you land in Florida…
Many of the low-end Chinese tablets come with facial recognition engine by Dahua. That introduces potential HIPAA violations.
The CDC recommended questionnaire is valuable to include.
Disney Point of View (and reminds us of Marriott CEO point of view)
Bob Iger, CEO of Walt Disney Co., is pondering what such a future would look like. Perhaps, he suggests, it would look like testing the temperatures of all of the guests before they enter the theme parks.
"One of the things that we're discussing already is that in order to return to some semblance of normal, people will have to feel comfortable that they're safe," Iger said in an interview with Barron's. "Some of that could come in the form, ultimately, of a vaccine, but in the absence of that, it could come from basically, more scrutiny, more restrictions. Just as we now do bag checks for everybody that goes into our parks, it could be that at some point we add a component that takes people's temperatures, as a for-instance."
Twitter reaction to the idea of testing all visitors before they are allowed inside the parks was swift and decidedly negative.  Full article
Another industry looking to reassure is the airline travel industry.
"And when international aviation does start up again, there will be a need to protect and reassure passengers. Hand sanitizer will likely need to be available throughout the airport, including at boarding gates. "And there is evidence that temperature control at airports reassures passengers, even though it is only a partial solution," says Powell. "Likewise, routinely wearing masks is contrary to WHO advice but passengers may prefer cabin crew to wear them initially."  See article on reassuring passengers from iata.org
---
22Miles Temperature Kiosk Solution
Mid-range bolometer temperature screening solution is the TempDefend from 22Miles. It comes with extensive application options and supports Windows and Android.  Click here to see that information.
22Miles Temperature Kiosk Solutions
Available in 10″ and 22"
Digital Signage content distribution through 22MILES platform
Body Temperature testing on the screen
Can be used at the store entrance, hospital, corporate lobby, etc
Can integrate with guest check-in
Higher resolution temperature sensor (bolometer)
Facial recognition options
Visit our site for more information
---
Olea Kiosks Temperature Kiosk
There are many activities happening simultaneously to ensure a safe work environment.  The Temperature Sensing Kiosk reduces the risk of infection to your employees and costly and time-consuming contamination clean-up efforts.  Give employees and visitors the confidence to know you're doing all you can do to protect them.
The Temperature Sensing Kiosk provides a number of benefits to allow businesses to protect their most valued assets–their employees.
Stop infection at the door
Maintain a safe work/business environment
More hygienic than thermometers that require physical contact
Safer and more efficient than using a human resource to screen temperatures
Reduce stress and anxiety for employees and guests.
Our Temperature Scanning Kiosk allows for efficient and accurate self-scanning of guests, patients, and employees as they enter your facility. Please contact us if you are interested in learning more or visit our webpage for temperature sensing kiosks.
07/20 — Olea offers financing on temperature kiosks. $8 per day for a temp screening kiosk including shipping and extended onsite warranty when you finance. Compared to assigning and employee to scan everyone coming in the building not to mention safety it's a no brainer really.
---
Pyramid Janus Health Kiosk for Temperature Verification
Developed to help enterprises comply with new strict health-check and social distancing expectations. The Janus Solution has been developed to help enterprises comply with new strict health-check and social distancing expectations in the current and post-Covid-19 landscape. Janus is a turn-key market-ready solution powered by the Truyo Privacy Rights Platform. Ensuring privacy and security for all user data, and corporate compliance with global privacy regulations.  Brochure Link
---
EvLite Temperature Kiosk
Screen customers and staff at the point of entry using our contact free, automatic temperature check station.
Face detection, can remind a user to wear a mask if not already
< 3 second detection rate using infrared technology
Accurate to within +/- 0.50c
Clear call to action 15" screen
Totally autonomous and contact-free
Simple to deploy compact design
Can be custom branded for any organization
Send an email to Evoke Sales for more information
Visit Evoke Creative website
---
Insight Touch Temperature Screening
The non-contact temperature screening system is used to reopen the business and is more safety. Are you interested? Please feel free to email us: [email protected] for more detail info.
---
Honeywell Thermal Imaging
CHARLOTTE, N.C., May 12, 2020 /PRNewswire/ — Honeywell today announced a new temperature monitoring solution that incorporates advanced, infrared imaging technology and artificial intelligence algorithms to conduct non-invasive, preliminary screening of personnel entering a facility.
The Honeywell ThermoRebellion temperature monitoring solution can be rapidly deployed at the entryway of a factory, airport, distribution center, stadium or other commercial buildings to quickly and efficiently identify whether personnel exhibit an elevated facial temperature. As individuals pass in front of a high-resolution, thermal imaging camera, their skin temperature is automatically detected within two seconds and displayed on an accompanying monitor.
---
Nanonation Temperature Screening Software
 Below are the links to Nanonation COVID-19 solutions, as well as a press release from our product launch.
---
Frank Mayer and Associates, Inc. Temperature Screening Kiosks
The kiosks combine best-in-class technology components, including TES America touch technology, to provide a commercial-grade solution with a long lifecycle for the business marketplace. TES America General Manager Gene Halsey says, "We are pleased to be involved in such an important project when employers are looking for answers during this unusually challenging time."
Frank Mayer and Associates, Inc. President Mike Mayer added, "By combining our core competencies, Agile Force, TES America, and Frank Mayer and Associates are going to market with more than just a temperature screening kiosk. We're solving the problem of health screening while also improving operational efficiencies for companies and enabling a safer, more engaged workforce."
In partnership with Agile Force Inc. and TES America, LLC, we're proud to introduce a full-service solution to the growing demand for remote temperature screening #kiosks. Read more about the contactless option designed to offer minimal disruption and promote privacy and safety. https://bit.ly/3cXFzxX
Visit Frank Mayer and Associates, Inc. for more info.
---
KioTouch Touchless Touchscreen Control
See the quick demo of contactless no touch touchless kiosk software using just your mobile. Software for lockdown and non-touch "use your mobile" software.
Screen Last Cleaned Customer Notification
This new feature of KioTouch enables KioWare to track the number of user sessions, active time and total runtime since last cleaning, and have KioWare generate alerts based on two thresholds for each item: ie, a warning and error.  It can be displayed to the kiosk user via a toolbar control or via our API, and it can send alerts to KWS/KioCloud to enable management to schedule cleaning.  The maintenance staff enters a custom exit code to reset the counters when cleaning is completed.  More information.
---
MORE SOLUTION PROVIDERS
For hybrid tablet iterations including iPad, Android and Windows
---
– all types of temperature check kiosks
Parabit Systems
– all types of temperature check kiosks
TurnKey Kiosks
– all types of temperature check kiosks
– all types of temperature check kiosks
– all types of temperature check kiosks
– software for all types of temperature check kiosks
Qwick Media
– all types of temperature check kiosks including sanitizer kiosks
– lockdown software Android and Windows for all types of temperature check kiosks
– Service and maintenance for all types of temperature check kiosks
– all types of temperature check kiosks
More Temperature Kiosk Articles
---
Request for More Information
If interested in temperature kiosks send us a note:
[contact-form to="[email protected]" subject="temperature kiosk general"][contact-field label="Name" type="name" required="1″][contact-field label="Email" type="email" required="1″][contact-field label="Telephone" type="text"][/contact-form]
More Related Links