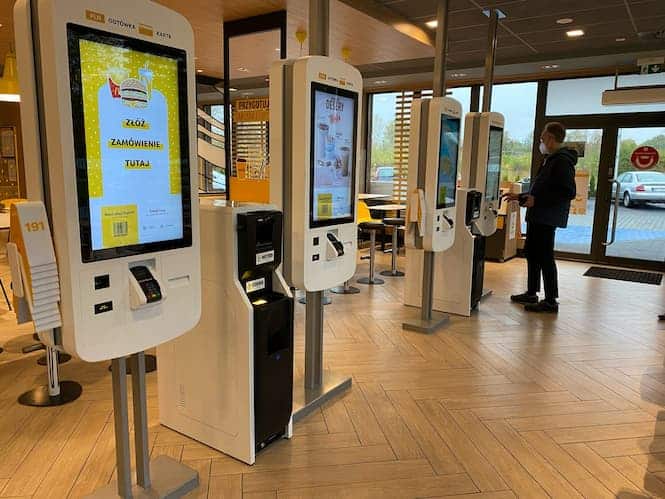 Updated – McDonald's Kiosks Adds Accessibility
More information on McDonalds incorporating screen reader software from Vispero.
JAWS Kiosk will allow blind and low vision users the ability to interact with a self order kiosk by inserting headphones into the headphone jack, located on the navigation pad, which will then navigate the kiosk screen, reading the content as they move through the application.
"McDonald's prides itself on fostering an inclusive restaurant experience for all," said Kelsey Hall, Senior Manager of Global Digital Accessibility at McDonald's. "This inclusive kiosk solution ensures blind and low vision customers can independently order their McDonald's favorites for themselves, their families, and their friends."
McDonald's is in the process of deploying this solution to corporate-owned stores and select franchise locations across the US.
Initial deployments are in Illinois.
---
From Mashed Sep 2021
It's good to see accessibility options for users who are blind and/or have low vision being integrated in self-order kiosks at McDonalds.
In Brief
For those who are blind or those who have low vision, current kiosks are not accessible
Tested on corporate stores and now moving to franchisees
Headphone jack on POS terminal used
Excerpt:
Those who wanted to skip the line to order at the register at McDonald's were likely pleased when the self-order kiosks first arrived in 2018 (via Forbes). Yet, the kiosks were not well suited to all customers. According to QSR Web, McDonald's is finally incorporating new kiosks with some new technology. For those who are blind or those who have low vision, the original kiosks were not accessible. However, the massive chain has had time to study how people interact with the kiosks and is now ready to implement new, more inclusive ones.
To make this happen, McDonald's plans to incorporate assistive technology created by Vispero into the new kiosks. The new systems have already been tested in select locations within the United States that were owned by corporate. Now, the kiosks are also being used at franchise locations. So, it will likely be sooner rather than later before everyone encounters the new style of self-order kiosks.
Read More: https://www.mashed.com/599743/mcdonalds-just-made-its-self-order-kiosks-even-more-inclusive/
---
ll company-owned restaurants to offer screen-reader on their kiosks by 2022
More information
Mounting new keypads and headphone jacks to the touch-screen kiosks it introduced in 2015.
Blind users can connect their headphones to the system and browse the digital menu using screen-reader technology and tactile arrow buttons, adding items to their basket by pressing a central button.
McDonald's said its existing self-service kiosks were rolled out in compliance with accessibility laws, including the Americans with Disabilities Act.
NFB raised its concerns with McDonald's in 2019.
The technology will be added to all existing kiosks in company-owned restaurants in California, and 25% of existing kiosks in other U.S. states.
McDonald's operates 5% of 14,000 U.S. restaurants
Long term (july 2022) new kiosks installed in any restaurants will include the accessibility function
Excerpt
The NFB raised its concerns with McDonald's in 2019. The organizations worked together to create and test the new system, which employs existing technology developed by TPGi, an accessibility software provider and consulting firm owned by Vispero, and Storm Interface, which develops assistive hardware and trades as Keymat Technology Ltd.
The results of the collaboration are arriving as an increasing number of lawsuits over accessibility are being filed. Between January and June of this year, just over 6,300 suits were filed in federal court alleging violations of Title III of the Americans with Disabilities Act, which prohibits discrimination on the basis of disability in public spaces and commercial facilities, according to the Chicago-based law firm Seyfarth Shaw LLP. The firm expects the number of those suits to exceed 12,000 this year, which would be the most since it began tracking them in 2013.