MEDIA RELEASE
Contact: Peter Jarvis
Storm Interface
Phone: +44 (0)1895 456200
Email: [email protected]
London, England. January 2018
Web: www.storm-interface.com
Storm Interface and Tech for All build on a shared vision
As the ICT sector in the U.S. is challenged to conform with the ADA and other accessibility regulations, two leading experts are collaborating to offer compliant and effective solutions.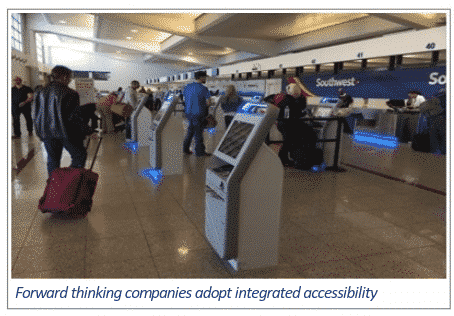 Aggressive and high profile class actions against well-known retailers, restaurant chains, vending machine operators, healthcare providers and major airlines have sent a cold shiver through businesses deploying touch-screen, self-service terminals. It is becoming clear that anything less than full compliance with both domestic and international mandates creates significant litigation risks. Inevitably this harms reputations and may lead to costly court-supervised settlements.
Many businesses are striving to make their products, services and infrastructure as accessible as they can possibly be and not just to achieve compliance. This forward thinking universal design approach improves usability for all users including those with sensory impairment or limited mobility. It improves efficiency, productivity, and enhances their relationship with the consumer.
Storm Interface and Tech for All, Inc. have announced a formal collaboration to help clients deliver accessible experiences for people with disabilities. Storm Interface is the UK manufacturer of audible system interfaces and content navigation devices. Tech for All is a leading US-based international consulting firm focused on the accessibility and universal design of electronic, information, and communication technologies.
"The inter-dependence of accessible hardware and effectively designed application software is obvious", said Storm's Peter Jarvis. "However, too often ICT designers and specifiers consider the two factors of accessibility separately, as if they were unrelated". Storm works with specialist kiosk software developers to ensure that Storm's USB-connected devices are universally supported throughout the ICT sector. By collaborating with established expert developers such as Tech for All, Storm is able to provide clients with a complete accessibility solution.
Tech for All's Caesar Eghtesadi agrees, "Our collaborative development approach produces a synergistic accessible design that delivers a successful experience for all users, including those with disabilities. This coordinated development approach is more cost-effective and efficient than the current adapt-and-patch approach."
Background Information:
About Storm Interface
For more than 30 years Storm Interface have designed and manufactured secure, rugged and reliable keypads,keyboards and interface devices. Storm products are built to withstand rough use and abuse in unattended public-use and industrial applications. Storm Assistive Technology Products are recognized by the Royal National Institute for Blind People under their 'RNIB Tried and Tested' program.www.storm-interface.com
About Tech for All, Inc.
Tech for All, Inc. has for over 16 years served small to Fortune 500 companies in several industries, educational institutions, NGOs, and government agencies. It provides a full range of accessibility consulting services including planning, evaluation, design, development support, testing, implementation/deployment,  and monitoring. www.TFAConsulting.com
Our contact details are as follows:
USA
Storm Interface
13835 N Tatum Blvd. Suite 9-510
Phoenix, AZ 85032
Tel: +1 480 584 3518
Email: [email protected]
Tech for All, Inc.
P.O. Box 213473
Royal Palm Beach, FL 33421
Tel: +1 561 333 2835
Email: [email protected]
UK, Europe and Other Territories
Storm Interface
14 Bentinck Court
Bentinck Road
West Drayton
Middlesex
UB7 7RQ
United Kingdom
Tel +44 (0)1895 431421
Email: [email protected]