Approach
32

  Self-Order Kiosk for Fast Casual
Frank Mayer and Associates, Inc.'s self-ordering kiosk delivers an interactive dining experience that offers expediency and order process efficiency to both customers and store employees.
GRAFTON, WI – Frank Mayer and Associates, Inc. announces the launch of Approach32, a self-service kiosk designed to meet the quick service restaurant industry's demand for customer convenience, order accuracy, and faster service by enabling consumers to browse a digital menu, customize an order and pay at the kiosk.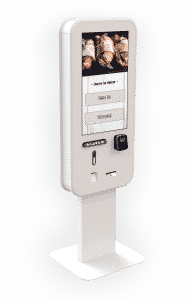 Outfitted with a 32-inch touchscreen monitor, the kiosk also features a payment terminal and printer, assistive technology and a software package option to integrate with various POS systems.
The enclosure marries smart design with a small footprint, offering an array of customization options and brand personalization – all while being backed by Frank Mayer and Associates, Inc.'s trusted name in delivering experience and unsurpassed quality in the interactive kiosk market.
"With our history of serving the kiosk market, designing Approach32 to fit the distinct needs of quick service restaurants and fast casual dining was a logical step," says Mike Mayer, President of Frank Mayer and Associates, Inc. "The Approach kiosk is the answer to the growing movement toward self-service."
Approach32 is also available as a smaller unit, containing a 22-inch monitor and tailored for restaurants with less floor space.
In addition to operating within quick service and fast casual restaurants, Approach32 also offers functionality for a variety of other markets including wayfinding, product selection, self-service checkout, and registration check-in.
Frank Mayer and Associates, Inc. is a leader in the development of in-store merchandising displays, interactive kiosks, and store fixtures for brands and retailers nationwide. The company helps retailers and brands utilize the latest display solutions and technologies to create engaging customer experiences. Visit www.frankmayer.com/approach for more information about Approach32 and Approach22.
******
CONTACT:
David Anzia, Senior Vice President of Sales
Frank Mayer and Associates, Inc.
1975 Wisconsin Ave., Grafton, WI 53024
[email protected]
MORE SELF-ORDER KIOSK IMAGES