DVD Rental Kiosks
Editors update: It's 2021 and these things are still going. Here is 2021 Investors Report and these people have expanded into video on demand and 10 or so other digital channels, along with their thousands of movie rental kiosks. Redbox Signs Ad Supported Video on Demand (AVOD) Deal With WarnerMedia and Adds AVOD Titles From Sony Pictures Television, Accelerating Expansion of Free Streaming Service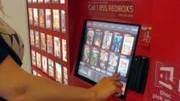 Get out the stethoscope, Nova Scotia movie fans. It appears there may be some life in the movie rental business after all.
Craig Keefner's insight:
During the past year, about 135 Redbox kiosks have popped up in Atlantic Canada at Sobeys,Superstore, Walmart, Shoppers Drug Mart and Petro-Canada locations.
Redbox movie rental kiosks are popping up all over the province — and across the Atlantic Canada — as a relatively new Canadian division of Redbox Automated Retail LLC, based in the United States, seeks to replicate in this country the popularity of its movie vending machines south of the border.
See on thechronicleherald.ca
More info