October 13, 2015
ATM Kiosk embedded NFC device enables customers to conduct
transactions using leading mobile wallet providers like Apple Pay
CHARLOTTE, N.C. & LAS VEGAS – Oct. 13, 2015 – Source Technologies, a leading provider of integrated solutions for managing financial transactions and other secure business processes, announced at the 2015 BAI Retail Delivery Conference enhancements to its 8-Series Personal Teller Machine self-service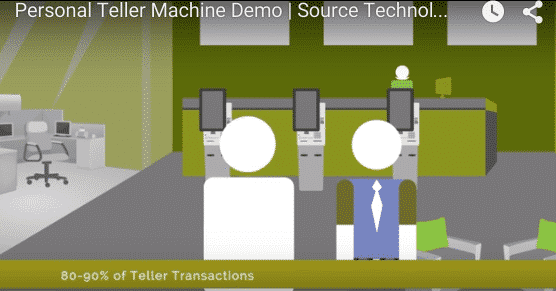 retail banking atm kiosk, which now supports mobile wallet acceptance and tablet-assisted takeover.
Engineered specifically for retail banking transactions, Source Technologies' Personal Teller Machine resides in the branch and automates 80 – 90 percent of transactions historically handled by tellers. Now, financial institutions' customers can simply tap their smartphone on the Personal Teller Machine's near-field communication (NFC) device to conduct a transaction using leading mobile wallets providers such as Apple Pay, Android Pay and Samsung Pay, among others.
In addition to mobile wallet acceptance, the Personal Teller Machine now supports tablet-assisted takeover, which enables a financial institutions' staff to step in and operate the atm kiosk via tablet if needed. In this model, a financial institutions' staff can better serve as "universal bankers" who focus on sales and service rather than just conducting routine transactions.
"More and more consumers have embraced self-service kiosks due to the speed, convenience and 'cool' factor these kiosks provide over traditional tellers, and our mobile wallet integration takes that modern banking experience just one step further," said Keith Hamilton, CEO of Source Technologies. "Mobile wallets have quickly become a widely accepted form of payment – both by retailers and consumers – so financial institutions must keep up with consumers' demands and expectations for mobile wallet acceptance in all aspects of their everyday lives, including banking."
Hamilton continued, "With our Personal Teller Machine, consumers are empowered to conduct their own transactions, but still have the ability to quickly receive assistance if needed. Moving those common, repetitive transactions away from the teller enables a financial institution's staff to take on more consultative roles, while saving resources and reducing in-store queues.
To learn more about Source Technologies' Personal Teller Machine, visit booth #2223 at the 2015 BAI Retail Delivery Conference, or view the following video – http://www.sourcetech.com/self-service/self-service-kiosks/personal-teller-machine-video
About Source Technologies
Founded in 1986, Charlotte, NC-based Source Technologies is redefining the branch channel by helping banks transform their branches with automation, innovative technology and superior engineering. The company's print solutions empower businesses to automate the secure printing of sensitive information and negotiable documents, and its ground-breaking transactional and interactive kiosks for self-service and retail applications enhance the self-service experience. Customers include 6 of the Top 10 US banks, 69 of the Fortune 100, and thousands of small and mid-sized companies.  For more information, visit www.sourcetech.com, or follow them on Twitter @source_tech and LinkedIn at www.linkedin.com/company/source-technologies.