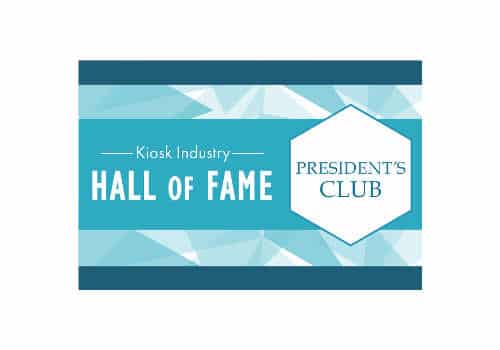 Kiosk Hall of Fame
NEXTEP SYSTEMS, OLEA, Netshift, and other kiosk companies represented in 2017 Kiosk Hall of Fame inductions
EASTLAKE, Colo., June 22, 2017 /PRNewswire/ — The Kiosk Industry Association is proud to announce the 2017 Hall of Fame inductees.  This year our inductees are Tommy Woycik of NEXTEP SYSTEMS, Traci Martin of Olea Kiosks, Ben Wheeler, Nigel Seed (UK) and James Vande Castle is the media inductee.
Posthumous inductees are Tommy Wincent of Swecoin (Sweden) and Eric Dumouchel of Ultimedia (France).
The leading vote-getter for the 2017 edition is Tommy Woycik, Founder and President of NEXTEP SYSTEMS, which specializes in self-order for QSRs, Restaurants and Fast Casual and counts SUBWAY, Wow Bao, and Which Wich among its clients. NEXTEP self-order includes indoor, outdoor, drive-thru, and mobile solutions.
Tommy Woycik says: "It's an exciting time in self-order technology, as it's become clear that the restaurant industry has started adopting self-order kiosks on a massive scale."
"In much the same way that mobile ordering began with pizza and spread throughout restaurants of every category, self-order has started with QSR and fast casual pilots, but will soon become standard industry-wide, both inside and at the drive-thru."
"Consumers will come to expect a consistently elevated experience, regardless of location or brand. As standardization builds momentum, we're looking forward to the opportunity to help restaurants weave self-order technology into their business models and brands.
The Kiosk Industry Association and Advisory Board congratulate all the inductees and thank them for their dedication to the kiosk industry over the many years.  Their success is our success.
In addition to the Hall of Fame inductees, the Association gave out two Special Recognition awards posthumously to Eckhard Reinmann of Germany and James Bickers, editor. See the Hall of Fame page for more details.
The Association thanks KioWare for sponsoring the Hall of Fame for 2017. Thank you.  The complete Kiosk Hall of Fame list is located here.
2017 SPECIAL RECOGNITION
Along with our Hall of Fame inductees in 2017 we also have some special recognition posthumous awards for people instrumental in the industry which might not otherwise be noted.
Eckhard Reimann — some of his many articles are located here. A nice In Memoriam for Eckhard is here.  Excerpt: The only worldwide independent, all-embracing competence ("gray eminence") for interactive kiosk, media, digital signage & room installations, comprehensive e-kiosk know-how as "Mr. Kiosk "(DMMK), Father of the Kiosks (NCR), multimedia pioneer (Prof. Swoboda, Trier), contacts, network, long-term (1999-2005/6) e-kiosk speaker at BVDW, , Jury chairman for kiosk / room installations at the German Multimedia Award (2002 – 2005), long-standing kiosk author at the HighText publishing house and the "Reimann commentary" at www.friendlyway.de Extensive literature source archive, moderator of the "E-Kiosk & Digital Signage Networking ". Co-author of "Handbook Practice Customer Relations Management", October 2007, author of the "DIGITAL MEDIA Best Practices Report – Digital Signage & Kiosks in Practice", Volume 1 (Trade) March 2011.  "I was friends with Eckhard and worked with him on creating a stronger industry.  He was a mentor for me.", Craig Keefner.
James Bickers — Nice In Memoriam on Digital Signage Today.  From LinkedIn — Senior editor of the web news portal Retail Customer Experience, Bickers was founding editor for Digital Signage Today portal which launched digital signage into prominence.  "James was one the most creative, talented people I've ever worked with," said Joseph Grove, the former executive editor of Networld Media Group, who hired Bickers in 2005 after being impressed with his freelance work.
Kiosk Industry Association on Social Media
About the Kiosk Industry Association
The Kiosk Industry Association is a professional "not for profit" news and marketing association for kiosk and self-service manufacturers. It is for the benefit of kiosk manufacturers, component vendors, service vendors, developers, resources and client companies who are involved in self-service and kiosk systems. News about the industry and by the industry is published on our website when it is relevant to companies that deploy or may deploy self-service, or illuminating companies that support those deployers with hardware, software or applications. It is part of the Kiosk Industry Group which was begun in 1995. Visit //kioskindustry.org for more information.
Media Contact:
Craig Keefner
303-261-8836
Related Links
Related Video
SOURCE Kiosk Industry Association