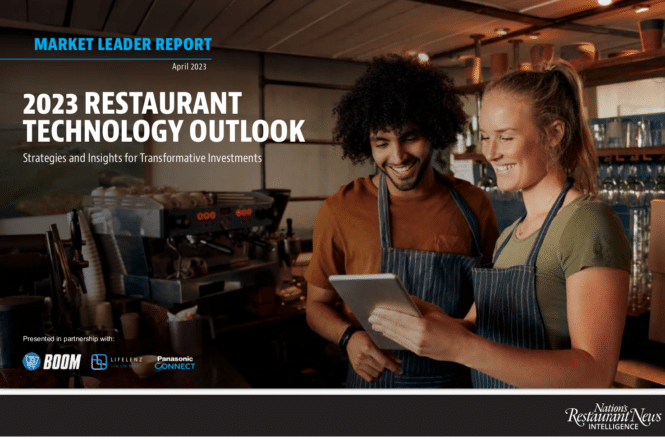 Restaurant Technology Report
Just in time for NRA, Nation's Restaurant News Intelligence releases new Market Leader Report.  Here is the signup link to get full report. For its newly released 2023 Restaurant Technology Outlook, Nation's Restaurant News Intelligence surveyed nearly 400 restaurant operators about their current tech stacks, long-term strategies and biggest challenges. The result is a comprehensive look at the mindset of today's operators, plus clear signals for where restaurant tech trends are headed next.
In Brief Summary
Budgets are tight
Loyalty programs still the holy grail
AI is interesting
Cost and Functionality biggest wants for Tech

In fact, the cost was the main obstacle to adopting new technologies, with 58% of respondents citing it as a key concern. The top three were lack of staff to manage and implement technology (45%) and lack of integration with current systems (41%). Respondents were also likely to say they were overwhelmed by the available options (20%) or lacked necessary knowledge about the options available to them (24%).

The idea of having one tech partner versus having multiple tech partners is an issue.
Customer sales and frequency #1 and then lower operating costs.
Panasonic Connect also did a "Post Murtec-2023" insight article on hospitality tech. Here is the article link and also Panasonic Connect link
What are some of the biggest challenges facing restaurant operators today, and how can technology help address them? We see evolving technology continuing to be the primary challenge for restaurant operators. Moving to cloud-based systems is challenging, and one of the key areas for us is providing solutions that support their transition. Our goal is to provide solutions that help protect the operators' investment in technology throughout the journey. This shift towards lightweight clients in the restaurant, in co-existence with legacy systems, is at the core of our product strategy.
Jay Burdette, senior director of Panasonic Connect of North America, a provider of POS, drive-thru, hand-held and signage technologies, recently talked with Nation's Restaurant News about how restaurant operators can leverage networks of integrated tech solutions to drive sales and improve operations throughout their restaurants. He also discussed how the evolution of artificial intelligence and the shift toward cloud-based, fully virtualized environments are shaping the future of restaurants. Our restaurant technology solutions also allow operators to use their labor resources more efficiently. The staff can be more consistent and effective in their work which can help to reduce waste and when engaging with customers.
What are some of ways Panasonic Connect helps restaurants navigate those challenges? We offer durable and reliable POS Terminals, High-Definition Audio Drive-Thru Communications Systems, Digital Signage with Content Management Solutions, and TOUGHBOOK® tablets. These restaurant technologies allow operators to have more control over their vast network of devices, including POS, KDS, and Kiosk. How do those tools streamline restaurant operations? What impact can they have during a busy shift in the restaurant?
Our eco-system of technology solutions is built to handle the heavy demands of the restaurant. This highly reliable and durable equipment provides improved uptime in the restaurant. Restaurant staff does not need to stop taking orders because the headset battery needs to be replaced, or a crew member is outside changing the static menu board, or a POS terminal is out of use because it is waiting to be serviced. … Our Attune Drive-Thru Communication System provides high-definition sound quality which enables the staff to hear their customer's orders the first time, without asking for them to repeat it and adding to improved order accuracy and increased customer satisfaction.
Our restaurant technologies benefit the industry's nature for its fast-paced and heavy demand environment. Restaurant operators require durable and rugged equipment yet looks sleek and stylish. With our flexible mounting options, our products can fit into the restaurant's design to meet their unique needs.
---
More Posts