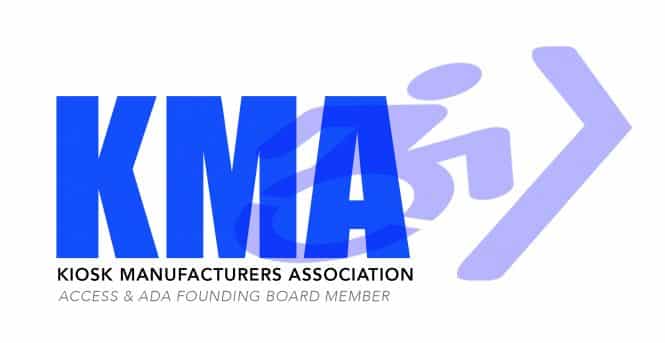 Kiosk Manufacturer Association Quarterly Update
KMA focuses on QSR, Fast Casual self-order systems and EMV 2018 status. New association website kma.global for Accessibility & ADA
EASTLAKE, Colo. June 21, 2018 /PRNewswire/ — KMA, also known as the Kiosk Manufacturer Association, is happy to present the quarterly update with news from the QSR world and the new association website launched (https://kma.global).
Seven features went up this month. The theme is QSRs, Fast Casual & EMV. The NRA show just completed and both McDonalds and Wendy's CEO gave meaningful interviews post-show. That naturally created a lot of interest. In addition, newly launched is the association site for the Kiosk Manufacturer Association (KMA). This will serve as the repository for Accessibility and ADA regulatory recommendations and a collaboration point for the ADA Committee and ADA Working Group.
https://kioskindustry.org has the current features:
Next up is a look at cash and coin in multiple verticals including new QSR iterations. Limited space, limited markets and limited budgets and ultimately making it pay for itself. Time to transaction really is money. Privacy and GDPR are around the corner editorially.
There has been a lot of news these past few weeks. Especially the Wired article on how Square designed their own iPad solution. Concept drawings included in the story about the process. Serving customer and employee at the same time is a big challenge. The robotic kitchen restaurant in Boston video is a techno-marvel, so check it out. Blended whiskey, blended food and now strategically blended "fill in the blank" coming soon to a specific market demographic.
Accessibility & ADA – There is work coming up for the committee and working committee. The intent is to help harmonize the similar US and European specs (e.g. EN301). Establish guidelines for accessible voice interaction. Alexa and A.I. are already creeping into the equation. To facilitate collaboration and presentation https://kma.global is now the primary association-only site. The official title for the association is Kiosk Manufacturer Association or KMA. New data research from Frost & Sullivan and IHL will release from kma.global.
In other news – Kansas City began the smart city transformation process. San Diego issued an RFP for a complete remake of its transportation system and is looking to the 22nd century. Also for multiple countries. Broward County has a big Digital Signage and Self-Service project.  Those are noted on the Kiosk RFPs and News Watch pages on Kioskindustry.org.
Finally here is the wrap on current Editor Picks and thanks to supporters
Editor Picks
Thanks to KMA's latest sponsors
Thanks to KMA's Premium Members
IMPRESA Financing & Leasing – https://www.impresafinancial.com
Acquire Digital CMS Software – http://www.acquiredigital.com
Self Service Networks Gift Cards – https://www.self-servicenetworks.com
TTCE Card Dispensing Modules – http://www.szttce.com/en
SEKO MedTec Logistics – http://www.sekologistics.com/en/industries/technology
Thanks to KMA's Gold Sponsors
Olea Kiosks, Inc. – https://www.olea.com
KioWare – https://m.kioware.com
iPadKiosks – https://www.ipadkiosks.com
Pyramid Computers – https://www.pyramid-computer.com/home.html
Thanks to KMA contributors for EMV
Nigel Seed with KioWare [

Europe

]
George Hudock with Datacap Systems
Leland Englebardt with Upshot Advisors
Frieder Hansen with Pyramid Computer
Allen Friedman – Ingenico
Bruce Rasmussen – Ingenico
Laura Miller – KioWare
Robert Chilcoat – UCP Systems
Geoff Leopold – Heartland Systems
Michael Lee – ATMIA Association
James Kruper – KioWare
John Menzel – Ingenico
Deana Rich – Rich Consulting
Troy Leach – CTO PCISecurityStandards.org
Wayne Vanderkraak – OPT Connect
Todd Ablowitz – Double Diamond Group
More About the Kiosk Association — Additional members include another 40 basic members + 335 companies in the free online database of companies and resources.
Additional websites managed include https://RetailSystems.org and https://ThinClient.org.
The kioskindustry.org site is hosted at Rackspace, the premier hosting solution.
Kiosk Industry was founded in 1995.
Contact for more information:
Craig Keefner
Manager – Kiosk Industry Group Association
720-324-1837  [email protected]
Located in Denver
LinkedIn Group –  https://www.linkedin.com/groups/59058
Related Files
Related Images
olea-kiosks-inc.jpg 
Olea Kiosks, Inc.
Image montage for "Austin" series
square-qsr.jpg 
Square QSR
New dual-user design
emv-update-2018.jpg 
EMV Update 2018
Feature article on EMV status as of 2018
global-entry-kiosks.png 
Global Entry Kiosks
"Hands on" review of Global Kiosks by Francie Mendelsohn
Related Links
Related Video
http://www.youtube.com/watch?v=FVl3n0iOUn4
SOURCE KMA
Related Links