McDonald's Kiosk Facts & Data
McDonalds kiosk is the platform and company which influences and drives the self-service self-order QSR market. In the U.S. they have done many pilots over the years. In Europe they have moved ahead with self-service. Now its big here in States. Recent flagship installation at Times Square for reference (CNBC) which features Pyramid.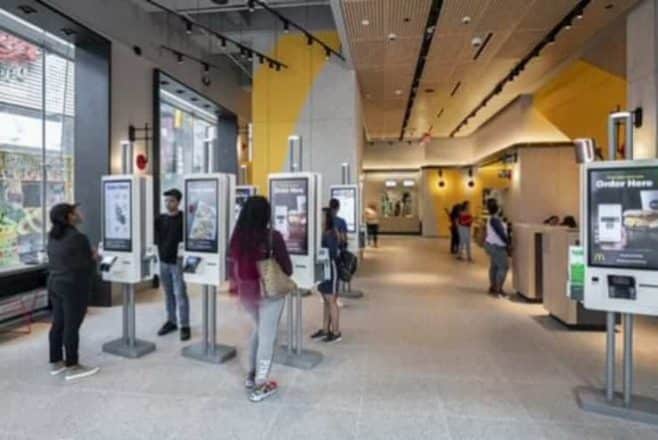 From Pyramid and Frieder Hansen — Congrats McDonalds: Today Grand Opening NYC Times Square wonderful McDonalds restaurant and 18 polytouch 32" kiosks are ready to take orders. In close neighborhood, at AMC Theatre Times Square there are 16 polytouch 24" units, selling cinema tickets since 2 years. Design, performance and reliability makes the difference.
McDonalds Kiosk QSR Self Order News Feed
---
From News Roundup
January 2021
December 2020
November 2020
11/9 — McDonald's announced on Monday a new growth strategy going into 2021 — "Accelerating the Arches" — which includes the introduction of a new crispy chicken sandwich early next year and the rollout of a new loyalty program: MyMcDonald's.
Described as a "new digital experience growth engine," the personalized loyalty program and all-in-one platform will offer tailored promotions for members and the ability for customers to place orders "through the channel of their choice." Key components of the new program will begin rolling out in a test pilot in the Phoenix area over the coming weeks. Link to article on NRN
June 2020
McDonalds permanently closing Times Square Flagship. Link.  McDonald's confirmed this week that the company has made the "difficult decision" to close the famed corporate store in Times Square, a move that was in the works prior to the coronavirus pandemic.
Feb 2020
Wow Bao announced further expansion plans within the East Coast market. In quarter one 2020, Wow Bao will open three new locations at some of the largest transportation hubs in the region, including Dulles International Airport, Boston Logan International Airport and Raleigh-Durham International Airport.  https://www.qsrmagazine.com/news/wow-bao-plots-east-coast-expansion-2020
Nov 2016
US news — McDonald's sanctions a new self-service solution along with digital signs after testing. The new solution package is being offered to franchisees to purchase with a small subsidy from McDonald's to assist.
Current kiosk industry participants seem to include Coates and Zivelo.  Printers are Epson (after some  troublesome other brands?)
DOL rules are being delayed in states like California. That is a combination of overtime and minimum pay.
Europe News — Back in March McD announced 8000 or so restaurants would be equipped. Estimates are less than 1500.
---
Older Archived News
Aug 16, 2004 – McDonalds & Music. McDonald's fast-food chain said global sales climbed 6.4 percent last month, a 15th straight monthly increase, spurred by …
Aug 31, 2004 – McDonald's to use cashless RFID payment system. Globe and Mail Update. TORONTO, Aug. 18 McDonald's restaurants has announced an …
Sep 2, 2003 – KIS and McDonalds. KIS delivering POS kiosks for McDonald's. McDonald's takes a closer step to self-serve. Updated: 7/25/2003 9:58 AM
May 16, 2011 – McDonald's to shake up food ordering system.McDonald's is to change the way customers order its meals in Europe, partly replacing cashiers …
https://www.fox5ny.com/news/mcdonalds-3q-earnings-down-on-tech-investment