QSR McDonalds Kiosk News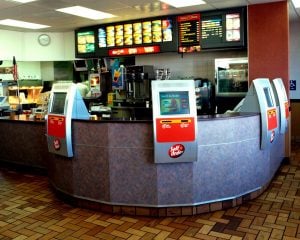 McDonalds is a platform and company which influences and drives the self-service QSR market. In the U.S. they have done many pilots over the years. In Europe they have moved ahead with self-service.
Maybe defining McDonalds as the new fast food (closer to fast casual) makes the most sense.
See the video of McDonald's self-order kiosk and their "Just For You"  program.  It's important to clearly state why self-order has gone into Fast Casual and why it is now being considered for Fast Food.
McDonalds Kiosk News Feed
---
November 2016
US news — McDonalds sanctions a new self-service solution along with digital signs after testing. The new solution package is being offered to franchisees to purchase with small subsidy from McDonalds to assist.
Current kiosk industry participants seem to include Coates and Zivelo.  Printers are Epson (after some  troublesome other brand?)
DOL rules are being delayed in states like California. That is combination of overtime and minimum pay.
Europe News — Back in March McD announced 8000 or so restaurants would be equipped. Estimates are less than 1500.
---
Older Archived News
Aug 16, 2004 – McDonalds & Music. McDonald's fast-food chain said global sales climbed 6.4 percent last month, a 15th straight monthly increase, spurred by …
Aug 31, 2004 – McDonald's to use cashless RFID payment system. Globe and Mail Update. TORONTO, Aug. 18 McDonald's restaurants has announced an …
Sep 2, 2003 – KIS and McDonalds. KIS delivering POS kiosks forMcDonalds. McDonald's takes a closer step to self-serve. Updated: 7/25/2003 9:58 AM
May 16, 2011 – McDonald's to shake up food ordering system.McDonald's is to change the way customers order its meals in Europe, partly replacing cashiers …