QSR McDonalds Kiosk News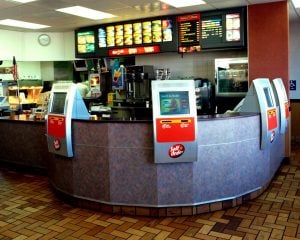 McDonalds kiosk is the platform and company which influences and drives the self-service self-order QSR market. In the U.S. they have done many pilots over the years. In Europe they have moved ahead with self-service. Now its big here in States. Recent flagship installation at Times Square for reference (CNBC) which features Pyramid.
McDonalds has history of trialling kiosks in Chicago but finally went full bore with Europe. Pyramid and others manufactured those.
In the US most of the McDonalds kiosks are made by Zivelo though recently there was a new deployment in New York's Times Square.
McDonalds News Bits
11/14/2019 – McDonalds Ordering Kiosks Major Flaw — From Financial Post — McDonald's ordering kiosks have a major flaw, making them unusable for large number of customers
10/23/2019 – McDonalds Earnings Down, Traffic Down -McDonald's President and CEO Steve Easterbrook said 9,500 U.S. drivethrus now have Dynamic Yield, as well as most drivethrus in Australia. He said average check size grows when customers use it. McDonald's digital in-store kiosks also increase check size.Still, analysts on a conference call noted that McDonald's U.S. restaurant traffic was down in the third quarter, an issue that has plagued the company for more than a year. They noted that some competitors, like Chipotle Mexican Grill, are seeing traffic growth without big tech investments.McDonald's insists it's on the right track.
McDonalds News Feed
---
November 2016
US news — McDonalds sanctions a new self-service solution along with digital signs after testing. The new solution package is being offered to franchisees to purchase with small subsidy from McDonalds to assist.
Current kiosk industry participants seem to include Coates and Zivelo.  Printers are Epson (after some  troublesome other brand?)
DOL rules are being delayed in states like California. That is combination of overtime and minimum pay.
Europe News — Back in March McD announced 8000 or so restaurants would be equipped. Estimates are less than 1500.
---
Older Archived News
Aug 16, 2004 – McDonalds & Music. McDonald's fast-food chain said global sales climbed 6.4 percent last month, a 15th straight monthly increase, spurred by …
Aug 31, 2004 – McDonald's to use cashless RFID payment system. Globe and Mail Update. TORONTO, Aug. 18 McDonald's restaurants has announced an …
Sep 2, 2003 – KIS and McDonalds. KIS delivering POS kiosks forMcDonalds. McDonald's takes a closer step to self-serve. Updated: 7/25/2003 9:58 AM
May 16, 2011 – McDonald's to shake up food ordering system.McDonald's is to change the way customers order its meals in Europe, partly replacing cashiers …
https://www.fox5ny.com/news/mcdonalds-3q-earnings-down-on-tech-investment