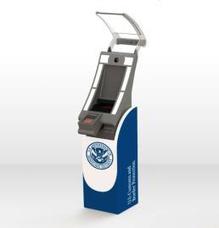 Passengers travelling to the United States can now pre-clear U.S. Customs and Immigration at Abu Dhabi International Airport using new automated passport control (APC) kiosks from air transport and government IT specialist, SITA.
Source: www.zawya.com
Passengers simply scan their passports to identify themselves, provide their fingerprints and a camera on the kiosk captures their face biometric. The passport and biometric information captured is then cross-referenced to verify the passenger is who they claim to be and then checked against government watch lists. There are several immigration questions the passenger needs to answer on the kiosk touch screen, and once cleared, the kiosk prints out a receipt to show as they exit the customs hall.