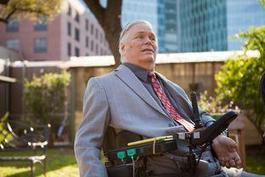 Houston professor Lex Frieden played a key role in the 1990 Americans with Disabilities Act. On the law's 25th anniversary, Frieden, who has used a wheelchair for decades, reflects on sweeping changes in accessibility – and challenges that remain.
Source: www.kgns.tv
A 1967 head-on car crash left Frieden paralyzed from the shoulders down. An 18-year-old freshman at Oklahoma State University, he found himself in a wheelchair on a campus where stairs were an impossible barrier and sidewalks were just beyond reach. He dropped out of school.
Later, he sought to continue his education at Oral Roberts University in Tulsa, but he was rejected because he used a wheelchair, he said.
"When I got the letter, I thought it was a mistake," Frieden said. "That hurt a lot worse than the broken neck. That was the first time I understood discrimination and the civil rights movement I had seen growing up. People making decisions based on characteristics over which someone has no control."
He went to the University of Tulsa instead. Armed with a psychology degree, Frieden moved to Texas. He pursued a master's degree at the University of Houston, where he met his wife, Joyce, who also uses a wheelchair.