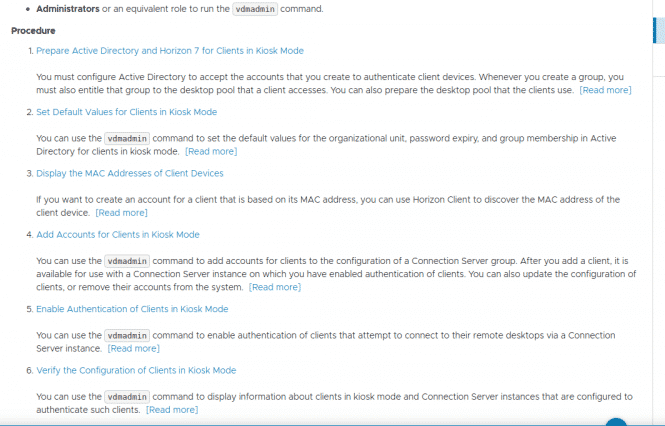 Question and answer from VMware community on configuring kiosk mode and thin client.
View Kiosk Mode with Zero Client – Auto login
myvdi (1 posts since Jul 7, 2014) Jul 7, 2014 2:20 PM
We are looking to use a zero client to provide guest internet access and are currently testing various configurations. We currently have a zero client (Wyse D200) setup with View+Kiosk Mode, which works great, with one main issue. We ultimately are looking to deploy ~300 zero clients which will connect to a floating linked clone pool which refresh on log off, however we only want the zero client to connect to the pool when someone is there and not stay connected 100% of the time.
So my question is whether anyone knows how to configure the zero client with Kiosk mode so that a user would have to select 'connect' or something user initiated to tell the zero client to connect to the pool, rather than have the zero client atuo-connect when it powers on? We really like the Kiosk mode and using the mac address for negotiation rather than any type of generic user or anything like that, so it would be great if we can make this work.
1. Re: View Kiosk Mode with Zero Client – Auto login
NetManOne (12 posts since Aug 9, 2013) Feb 3, 2015 8:10 PM (in response to myvdi)
i have the same question
we want to deploy Wyse p20 so that users can deploy and run their results on a large common screen ie the output of their VM should display on a the zero client if there are more than one user, it would be handy if each users screen stays up for 20-30 seconds and then it round robins to the next user. if no user, then just display a world clock
any ideas anyone?
Report Abuse Like (0)
2. Re: View Kiosk Mode with Zero Client – Auto login
Hot Shot VMware Employees
Gaurav_Baghla (239 posts since Dec 19, 2012) Feb 5, 2015 1:04 AM (in response to myvdi)
Could you please refer to this if that helps
https://docs.vmware.com/en/VMware-Horizon-7/7.8/horizon-administration/GUID-84E6E2DA-0CFA-4D92-B880-8FC0ECE8A1E1.html