Chrome Kiosk — Just two weeks after initial product release, KioWare has an update that adds support for fully customizable HTML virtual keyboards.  It also allows users to restrict interaction on a second monitor (so the second monitor in a set up can be used as only digital signage, with no ability to interact).
There is another feature that should be compelling to those that want to use YouTube or other, similarly constructed websites.  In short, because of the way that YouTube navigates (and allows for viewing videos without changing the page URL), it can pose a security risk for restricting navigation.  The new version of KioWare for Windows is able to remove that risk and restrict users to only the allowed content, even when that content is part of a pushState or replaceState function (rather than navigating to a new URL).
Since Chrome support is one of the major features of the new product, it is worth mentioning support for Chrome Flags.  Flags tend to be more of a beta Chrome feature, but they allow for modified touchscreen browsing, or accelerated rendering, to improve performance and user experience.
There are also a few bug fixes, of course!
Full release with images below.
PRESS RELEASE AUGUST 12, 2015
We have released an update of the new KioWare for Windows (Version 8.1) software – rebuilt using the Chromium browser engine and supporting the Chrome™ Browser.  This update is available to existing KioWare for Windows license holders (with current support).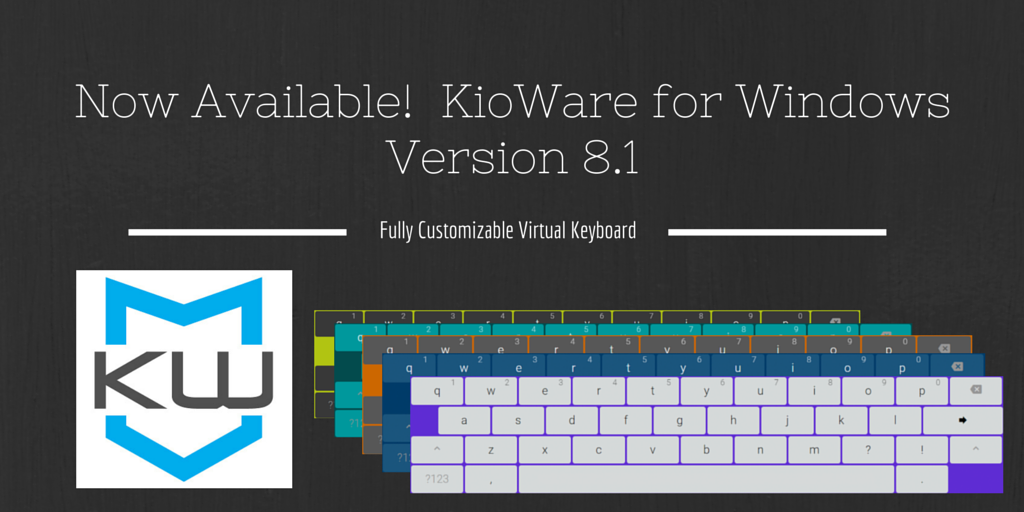 The
new KioWare for Windows
has one single installer for all models (Lite, Basic, & Full) of the product. Potential and current customers can
download KioWare for Windows
and determine which model is needed before purchasing the appropriate license.  Once licensed, the software can be deployed without additional download or configuration delays.
Features of KioWare for Windows Version 8.1 include:
A fully customizable HTML keyboard for complete control over the look and feel of your virtual keyboard
Shell Mode & Auto Log in is now integrated into the configuration tool for simple set up
New support for Chrome™ Flags
Improved exiting options for the non-physical virtual keyboard
Virtual keyboard sizing via use of percentages rather than exclusively pixels
Ability to disable browser support for JavaScript pushState and replaceState functions as well as an option to force all JavaScript AJAX requests to go through the browsing access control list for permission – Particularly helpful for those using YouTube or other, similarly constructed websites
Other various bug fixes & configuration tool simplification



KioWare Basic & KioWare Full for Windows now also allows for secondary monitors to be used as non-interactive displays.  With a new option for disabling secondary monitor interaction, KioWare now allows for your second monitor to be used exclusively as
digital signage
, if so desired.
KioWare for Windows Version 8.1 is available for download and purchase: https://www.KioWare.com/windows.aspx.  Licensing is perpetual and annual support is recommended in order to maintain access to the most recent version of the product.  If you would like to convert your licenses from KioWare Classic for Windows to the new KioWare for Windows, log into your customer account, select a transaction, and click the "transition license(s)" button.
All KioWare kiosk software products secure devices such as tablets, desktops, and smartphones running Android or Windows Operating Systems.  KioWare
kiosk software products lock down your device into kiosk mode
, which secures the overall operating system, home screen and usage of applications.  KioWare Kiosk Management tools (KioCloud, KioWare Server, & KioWare Server ASP) allow for remote kiosk management, usage statistics, reporting, monitoring kiosk health, content management and more.