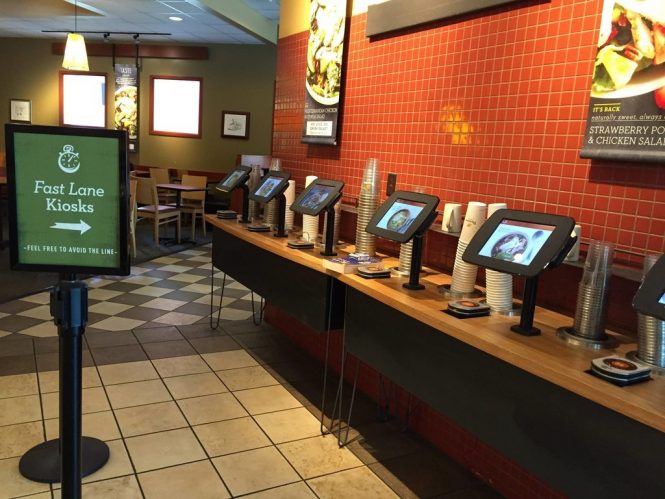 Fast Food Kiosks killing jobs? Current events beg the question, but the facts say otherwise
We at the Kiosk Industry Association have seen the news media running controversial headlines and opinion pieces by CEOs and ex-CEOs decrying the minimum wage increase and attributing loss of jobs to self-order.  Nothing could be farther from the truth. Here is a very nice piece from Fast Casual and Elliot Maras providing an accurate counterpoint. Thanks Elliot! — Editor
President-elect Donald Trump's nomination of Andrew Pudzer as Secretary of Labor has helped push the "kiosk as restaurant job killer" theme into the nation's consciousness. Pudzer, CEO of CKE Restaurants, is an advocate of automation.
The high-profile Pudzer nomination directs attention on automation as restaurant chains continue to introduce self-order kiosks to improve customer service. It comes on the heels of the "Fight for $15" wage campaign, which is placing unprecedented pressure on restaurants, particularly limited-service concepts.
Late last month, Ed Rensi, a former president and CEO of McDonald's USA, penned a column in Forbes reminding readers that businesses in 2013 warned that the labor-union-led "Fight for $15" would force companies to replace full-serve employees with self-service alternatives.
Rensi's main point was that businesses cannot absorb the higher wages that labor unions are advocating. But for people less familiar with the restaurant industry, the controversy over the $15 wage has muddled the full story about why foodservice chains are introducing self-service kiosks and what impact kiosks really have on restaurant labor.
Shortly after stories broke claiming McDonald's was planning to roll out self-order kiosks in all of its 14,000 U.S. stores, The Gateway Pundit, a political website, carried the following headline: "Congrats Minimum Wage Protesters! McDonald's Unveils Job-Replacing Self-Service Kiosks Nationwide."
Both the restaurant industry and the kiosk industry now find themselves forced to defend their actions, which in reality are not killing jobs.
Kioskmarketplace in May reported that many restaurant chains were deploying kiosks before the $15-minimum wage push had gained steam. The Digital Screenmedia Association in 2011 reported that 21 percent of all QSRs were planning to introduce self-ordering kiosks. Also, in 2011, McDonald's installed 840 kiosks across Europe with the goal of improving customer service.
Robotics researchers, restaurant executives, industrial engineers, consultants and economists have all said automation in the restaurant and fast-food sectors is not as simple as installing automatic tellers in banks or employing robots to assemble cars, according to Reuters.
Several chains are using kiosks and other technology that allow orders to be placed more rapidly and efficiently. Such efficiencies are serving to reallocate labor from the front to the back of the restaurant and in some cases, add jobs.
Labor moves to the back of the house
During McDonald's shareholders meeting in May, company CEO Steve Easterbrook was asked if he expected to see kiosks taking the place of workers and causing people to lose their jobs. "It may change the nature of the jobs in the restaurant, because frankly technology is something that our customers are embracing," Easterbrook said. "We can just reapportion that labor into more service orientated roles that we think the customer will benefit both ways."
According to Panera Bread's 2015 second quarter earnings call report, digital utilization efforts reduced order input labor but increased labor hours. Panera's new business model, introduced in 2014, includes fast lane kiosks for dining in and ordering to go. Under this model, called Panera 2.0, the company actually added labor hours to meet the demand driven by multiple points of digital access and to ensure the ability to serve with greater accuracy in an environment where about 70 percent of orders are customized.
"This extra labor is necessary to drive a better guest experience consistent with operating clarity," the earnings report said.
CEO Ron Shaich indicated as early as October 2014 that same-store sales from 2.0 stores outpaced traditional cafes, according to FastCasual.com. With 5 percent of all company sales placed through web, mobile or kiosk, Shaich said he was encouraged by the potential for the 2.0 model.
Saladworks, a fresh salad franchise chain that is also revamping its stores, does not expect labor hours to decline as it installs self-serve kiosks, according to Pat Sugrue, president and CEO.
"We didn't do this for labor purposes; we did it for throughput and also capacity," said Sugrue. "We're going to have more people making salads. From an hours perspective, hours should go up, not go down."
Sugrue pointed out that the kiosks could impact labor costs in a positive way for the company that is not synonymous with fewer hours worked.
Self-order kiosks change labor metrics
"If the sales go up faster than the net hours, then our labor as a percentage of sales will come down," Sugrue said. "I think we're going to add hours, but we should be able to increase throughput, and therefore, sales, and our labor percentage could come down."
The objective of the kiosk is recognizing that how you want to be served and how I want to be served can be very different, Sugrue said.
"Increasingly, millennials and millennial-minded people don't necessarily need that interaction with someone. For those who order off the kiosk, that will shorten the queue for those who don't order off the kiosk, and it will provide better service to either group," he said.
Fast Food Kiosks long-term impact not known
This is not to say that some jobs won't be eliminated in some situations. The long-term ramifications of self-order kiosks are hard to determine, given the newness of self-order restaurant kiosks. Transitioning to kiosks will require companies to continue serving those customers who still want personal service.
"During slower times, brands still need the appropriate number of counter staff because the kiosk is a customer service option, not a requirement," said Jodi Meryl Wallace, chief marketing officer at Acrelec America, a provider of customer experience technology. The company's European operation has been involved in numerous restaurant kiosk deployments. "There's also the need for front-of-house team members to assist customers who are new to using the kiosks," Wallace said. "Because of kiosks, brands have begun to offer table service delivery of orders so staff is redirected to that task as well.
Because kiosks increase the speed at which orders are taken, brands have found that there's an increased need for back-of-house/kitchen staff during peak periods when kiosks are used, Wallace said.
"Kiosks grow revenue by increasing throughput and by providing consumers with 'order privacy' which results in customers adding more side items, beverages and desserts, and more frequent upsizing of menu items," she said.
Meeting customer needs
Ultimately, restaurants must meet expectations of all their customers, and 64 percent of millennials prefer self-service, according to an MHI Global report.
"Add to that kiosks can present a menu in multiple languages…and they're fun to use," Wallace said. "In France, 90 percent of consumers will use the kiosk option when it's available. "Brands have reported that the average check size at the kiosk is 30 percent higher than at the counter."
Reducing restaurant labor has a little bit to do with it, but it's not the driving force, said Tom Radtke, vice president of sales at Keyser Retail Solutions, a retail technology integrator.
"You're going to continue to have that kid at the counter," he said. "There's a group of people who won't go to the kiosk."
Radtke agrees with those who predict self-order kiosks will improve restaurant sales.
"The kiosk can lead you through the process and do suggestive selling, and that kiosk does it better than a 13-year old crew kid," said Radtke. "Typically that (kiosk) order is a higher ring than it is at the counter."
Another factor is that consumers today, especially millennials, are more appreciative of businesses that use technology. Hence, there is a customer perception factor involved.
Is a groundswell underway?
The controversy won't be going away soon. If McDonald's deploys kiosks nationally, it marks one of the country's most significant restaurant kiosk developments.
Given how long limited-service chains have been testing kiosks, one can't assume that McDonald's action — regardless of what's motivating it — signals a groundswell movement, however.
"If your customer doesn't embrace it, you've got a huge expenditure for something that doesn't have much of a payback," said Radtke. "How do you incorporate another layer of ordering, transaction processing into the inside of the restaurant?"
He noted that it took a long time for bank customers to embrace ATMs.
Some observers do think a groundswell is in the making, however.
"The QSRs are starting to understand the ROI on this," said Charles Lewis, director of business development at Elite Manufacturing, a kiosk hardware manufacturer.
The speed and order accuracy that kiosks deliver are creating higher profit margins, Lewis said.