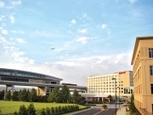 Denver International Airport has installed 16 BorderXpress automated passport control (APC) kiosks to expedite the customs entry process for international travellers.
Source: www.airport-world.com
Nice photos and story on new addition to CBP area. Through a competitive bid process, Innovative Travel Solutions – a business unit within Vancouver Airport Authority (YVR) dedicated to APC development – won the bid to install and maintain the APC kiosks for a contract of $868,000 over five years.