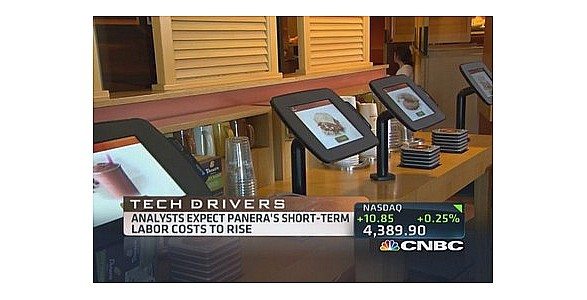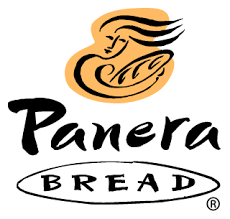 In Panera Bread (NASDAQ:PNRA) Q4 2014 Earnings Call February 12, 2015 Ronald M. Shaich – Co-Founder, Executive Chairman and Chief Executive Officer details results.
Source: seekingalpha.com
One number that struck me is that 8% of all Panera sales are now conducted thru digital channel. Their Rapid Pickup has been big factor.  Began with 3 in Boston, 17 in Charlotte, 52 units in Dallas & Jacksonville. Finally "Iteration 4" goes in 32 cafes in LA, Seattle and San Francisco.
Stockwise PNRA fell almost 10% today due to disappointed guidance.  Also from "An uneven tone from management on the firm's earnings call is partially behind today's sell-off, say analysts."
Okay, I'll now take a drink of water (often repeated)…
Okay, let's cover the individual elements that are part of the 2.0 experience. Those individual elements include: first, Web, mobile, kiosk and e-commerce ordering; second, new operational systems we call operational integrity. These operational systems are rooted in total quality management and enable us to deal with higher volumes with much greater accuracy and significantly more speed.
Third, the third element. It's the extra labor we added that we believe we need to execute with discipline and accuracy against the higher levels of demand we can generate when the digital floodgates are open wide. This includes the initial startup labor to train both our associates and our customers to live in a digital world. It also includes the production capacity required to handle customization and the intense rushes that occur with digital ordering at peak hours. Lastly, extra labor is for a new expediter position, which, in our mind, is the quarterback of the entire production process, standing on the customer side of the counter, assuring order accuracy and dealing with customer concerns.
Fourth element. In 2.0 cafes, we've utilized Delivery to the Table as our service format. Delivery to the Table is presently and approximately 13% of our cafes today and was added to the Panera 2.0 program as a mechanism to evolve the Panera concept consistent with what we see competitors executing. While Delivery to the Table is not a competitive ante in every market, it's clear that Delivery to the Table is the future in our segment of the industry.
The fifth element is what we call the wall. In early Panera 2.0 conversions, we added a wall, which closed off the back of the house. The wall was initially put in to support our equipment needs, but we have since come to believe we can live without it in most cafes. When we kick off any innovation project at Panera, we like to think we are stubborn in vision but flexible in execution. In the case of Panera 2.0, the vision is an improved guest experience. In support of that vision, we have been mixing and matching the elements I just ran through as we tried different iterations of Panera 2.0 over the last 12 months. Common across all iterations is the addition of digital ordering through the Web, mobile and the kiosk and the new operational procedures we call operational integrity. Different iterations have been allowed different levels of labor, and different iterations have had the wall applied differently in different cafes. As well, different existing service configurations required different approaches to the labor investment necessary to execute Delivery to the Table.