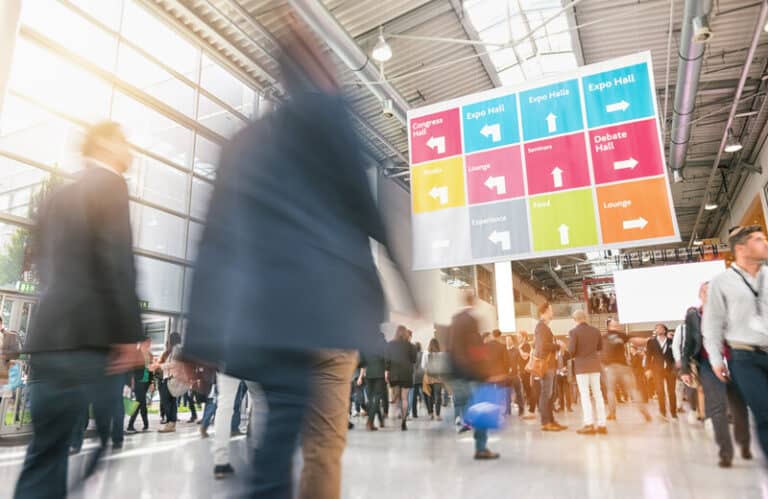 Self-Service Tradeshows August 2023
Here is an update on upcoming tradeshows and how (and maybe) the Kiosk Industry and the KMA (Kiosk Manufacturer Assocation) are involved.
Tradeshows
IAAPA – Attendees 42,000 and exhibitors +1000 — anything to do with ticketing. So, we will be at IAAPA this year in booth 6137. November. Ticketing and outdoor are major segments there; historically, it has always been "a good show".  This year it is SOLD-OUT and they've opened the parking lot to spillover wanna-exhibit folks (at a third of the regular rate). For a preview of our booth see  IAAPA Kiosk Update. Tagline — IAAPA Expo is the largest trade show for the attractions industry. General managers, owners, and CEOs of theme parks, amusement parks, zoos, aquariums, and water parks travel to the show to buy rides, connect with attractions industry experts, and more.
DSE in Vegas —  Attendees 5,000 and +100 exhibitors. We are an official media partner. This is primarily for digital signage and we are happy to support the show. Use the code KMA20 to get a free expo pass or 20% off the full conference pass (which includes access to the expo). Early Bird deadline to register is Aug. 19. Tagline – The Ultimate Gathering of Digital Signage Experts
Digital Signage Experience.  DSE is sharing audience with another big Bar and AV show so it should be even better this year.  Don't miss Sixteen-Nine mixer.
NRF 2024 — Attendees 40K and exhibitors +1000 — anything to do with retail. Here are the demographics.  We are in 1602/1A on First Floor. Tagline — NRF 2024 brings together more than 6,200 brands from around the globe to New York City for three days of learning, collaboration and discovery. If you're looking for the next big thing to revolutionize your business, you need to be here! 170 SESSIONS 450 SPEAKERS 1,000 EXHIBITORS 40k ATTENDEES

Food Service Innovation Zone.  This is on first floor (1D) and adjacent to main First Floor   Food Service ToT floorplan final for 1D. The Foodservice Innovation Zone will also feature collaborative areas for sponsors to show the value of their products and offerings.Activation areas will consist of:

Convenience store
Non-Traditional Foodservice/Grab & Go
Vending & kiosk
Drive-thru tech
Robotics in foodservice
Command Center/Back office

More Shows

Grocery Shop in Vegas Mandalay September
FSTEC — Sept 13th in Dallas. 1600 attendees. Here is the floor map. Tagline — Technology has a larger-than-ever role in restaurants today, so having the right tools and expertise is critical to the success of your business. Register today for the top food service technology conference to learn about the latest innovations and connect with your peers and potential partners.  Panasonic will be there along with Esper and Star Micronics.  Historically this has been a good restaurant tech-focused show for sure. NCR and PAR are the mega sponsors.  Winsight runs the show (same for NRA Chicago).
ETA Compliance Conference in Virginia November 9
Events
08/21 EPIC UGM 2024 in Madison — a couple of our members will be there including Olea Kiosks and KIOSK Information Systems
08/22/2023 Online — As an Intel Partner Alliance partner, we invite you to attend the virtual Intel Partner Summit that will elevate your competitive edge, transform your organization, and build for success. Register now!
12/4/2023 Miami — Vending, Kiosks and Mobile  conference — We are asked about the Self Service Innovation hotel summit in December. Hotel "Birds of a Feather" talks and best value probably elephant-hunting big companies. Attendees <200 and exhibitors maybe a dozen+ exhibitors (few kiosk companies though this year we see KIOSK as sponsor). There is no formal exhibitor floor though they do offer an adjacent room for table display. They hand out awards.  Tagline — The event will cover self-service, kiosk, vending and mobile solutions that can be applied in a wide range of settings.   It's in Florida so we never go + we are a former major equity holder and thus cannot claim zero bias.
More Posts