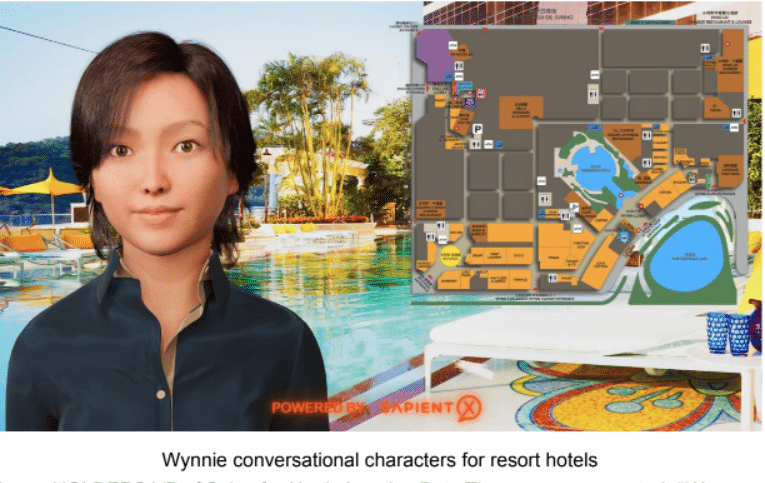 SapientX Announces GPT-4 Powered Talking
Characters For Resort Hotels
November 6, 2023 – San Francisco – SapientX <https://www.sapientx.com>, a leading supplier of AI-powered, talking characters for digital signage, today announced the first digital characters, using GPT-4, for use in resort hotel wayfinding, concierge services and food & drink ordering. The life-sized "Wynnie" character will be shown at the upcoming IAAPA conference in Orlando November 14-17 running on an Actineon workstation and an ImageHolders kiosk. A video of Winnie can be found here. SapientX CEO, David Colleen observed that "Increasingly, hotels are facing staff shortages and turning to us to supply conversational characters that can perform basic tasks, such as checking in guests, giving directions and taking food orders.".
Wynnie conversational characters for resort hotels
ImageHOLDERS VP of Sales for North America Pete Thompson commented, "We are really delighted to be collaborating with SapientX and Actineon. The combination of customer-led design, state-of-the-art hardware, and the incredible potential of conversational AI is a winning formula that is going to revolutionize the way users can interact with technology creating better user experiences and great opportunities to increase revenue for the businesses that adopt this technology.".
SapientX will be showing at booth #4350 at the Orlando Convention Center. We invite attendees to stop by our booth to try our characters and meet our team of experts in conversational AI. Tickets can be found here. Use code U410774K. We look forward to seeing you there!
About SapientX
SapientX is an advanced, conversational AI (artificial intelligence) software platform made to give a voice and intelligence to brand ambassadors in digital signs. It focuses on natural voice to voice conversation with; emotion comprehension and response, context awareness, learning, and an expressive, 3D avatar interface. SapientX runs with or without an internet connection making it user data friendly.
apientX Website – https://www.sapientx.com
About Actineon
Actineon, headquartered in Silicon Valley, is a market leader in high-performance, custom and semi-custom edge computers, industrial kiosk computers, edge workstations and edge gateways. Actineon can offer full stack design and development services, global sourcing, and a world-class supply chain. They offer solutions integrating the latest A.I., computer vision, sensing and SapientX conversational A.I.. Actineon Website – https://www.actineon.com
About imageHOLDERS
ImageHOLDERS are a customer-led kiosk and self-service terminal manufacturer. We help our clients to define a specification for success. Our modular product range means we can rapidly create unique solutions. We focus on the integration of the latest device technology and our products can be specified around the software solution and the user journey of every client. Our mission is to solve the self-service challenges of organizations around the world with innovative design and exemplary service. All trademarks and registered trademarks previously cited are hereby recognized and acknowledged. For more SAPIENTX information, please contact Patti Guard at [email protected]. For more information on Actineon, please contact, Paul Miyoshi [email protected]. For more information on imageHOLDERS, please contact, Pete Thompson [email protected].
SOURCE SAPIENTX