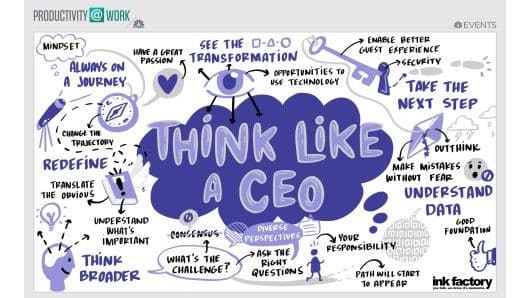 Originally published on LinkedIn on November 8, 2018


Blaine Hurst
Chief Executive Officer & President
Panera Bread
I had the opportunity to sit down with Lisa Su and Jon Fortt last week for CNBC's Productivity@Work event to talk about C-level perspectives on technology. So I thought I'd share more broadly some of our key learnings on digital transformation.
In 2011, we began the "Panera 2.0" digital transformation initiative with a single focus – to improve the guest experience – launching nationwide in 2014. With more than $100 million invested in technology and operations, we redesigned how cafes and kitchens operate, created the systems and technology infrastructure to support multiple digital ordering channels including web, catering, mobile apps and in-store kiosks. Digital sales in 2018 are expected to reach $2 billion and account for a third of system-wide sales. What we learned in the process:
#1 Start with what matters.
Seems like common sense, but far too uncommon. We often don't focus on the real objective of the digital initiative – the customer journey, whether internal or external. It's not about the technology (unless you are a tech company), but rather the stated or unstated need of the customer. Technology, for technology's sake, is irrelevant. You must develop a deep understanding of the business need. Far too often, digital transformation becomes about the "gee whiz" factor, not the real mission, not what matters.
#2 Time really matters.
Don't boil the ocean. Architect the solution, but deliver it in iterative steps. I've seen way too initiatives fail because a technologist attempting to drive business change, wants to get the platforms perfect before delivering anything meaningful for the business.  Take the time to architect the future, but "chunk up" the work so that the business sees value along the way. Otherwise, major change projects lose business sponsorship, funding, and inertia sets in.
#3 Bring an elevated experience from Day 1.
Every iteration released to the customer must add value for the customer or the target of the technology. And the iteration must add enough value to the customer to be worth their time to learn to use it. Whiz-bang cool stuff won't matter unless it makes a difference for the customer. But most critically, it must work. Technology availability, speed and performance, functional value – all should be a goal of each and every iteration leading to the final solution.
#4 A focused, unbridled team wins every time.
Committees, working on a strategic initiative, rarely accomplish a difficult mission. Select a full-time team with the requisite skills to accomplish the mission and set them loose. Don't be overly prescriptive of the process. It you have to tell them how to do things, you have the wrong team. Engage with them in the thinking, challenge them to deliver the ultimate mission, hold high standards, keep the team as small as possible and make sure that every member of the team is focused on delivering the mission, not representing their department. I have rarely seen anything else work.
#5 Expect the unbelievers.
Change is hard. Even the person sponsoring the change will get cold feet and second guess the mission. To deliver transformative change, you must be willing to step out, take a risk, be wrong (and fix it fast). I often say, if you really want to be a leader of transformational change, you must be willing to get fired. If you are afraid to be wrong to or make a mistake, you cannot lead transformation of any scale. Perseverance is an essential characteristic of a transformation leader. Courage is crucial.
Finally, run the race with joy. 
Transformational change requires a leader that runs the race with joy. Digital transformation is real work, hard work. Somedays it's rewarding. But many days it's just hard. Joy is a choice. Transformational leaders must share the joy of accomplishment along the journey.