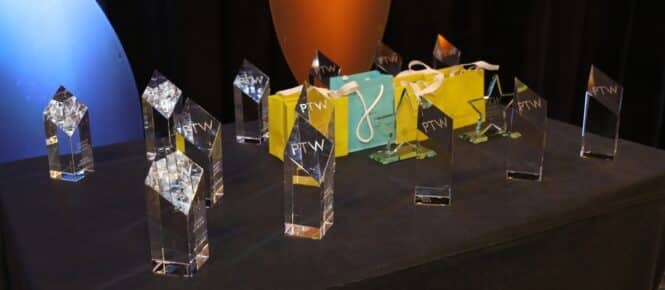 Datacap Wins PayTech Women Corporate Champion – Small Business Award
Chalfont, PA – Datacap Systems Inc., a leading hardware and processor-agnostic omnichannel payments provider, has won the PayTech Women Corporate Champion – Small Business Award. The Small Business Award is given to an organization that embodies the PayTech Women mission by developing an internal program that supports enhancing women's careers in the workplace. PayTech Women, formerly WNet, celebrates and champions women in the payments and fintech industries. Nominees and winners were announced at the annual fall Leadership Summit on October 3 in Atlanta, GA.
"We are delighted and humbled to receive the PayTech Women Corporate Champion – Small Business Award. This recognition drives us to further support, mentor, and uplift women in our organization. I appreciate being part of a team that is willing to invest in PayTech Women values and empowering their employees.," said Darcie McNamara, Strategic Partnership Specialist at Datacap Systems.
To win the Small Business Award, the winning company had to demonstrate how their internal programming helped to support women in advancing their careers. Datacap's internal program and onboarding offers employees PayTech Women membership registration and encourages participation in PayTech Women-led monthly webinars and attendance at the annual PayTech Women Leadership Summit. Datacap believes that empowering women is not just a corporate responsibility, but a vital component of our success and winning this award reaffirms Datacap's commitment to fostering diversity and inclusion in the fintech industry.
For a full list of 2023 award winners, visit https://www.paytechwomen.org/page/Awards. If your Point of Sale application isn't yet integrated to Datacap, contact us to get started today! https://datacapsystems.com/contact-us/
About Datacap Systems
Datacap builds industry-standard payment solutions for Point of Sale providers to meet the needs of merchants in any market. Security-centric solutions for virtually all processing platforms route through dozens of pre-certified devices from leading OEMs – all via a universal payments integration, empowering merchants to create a unified payments experience across brick and mortar, online, mobile and unattended applications. As the only channel-centric and processor-agnostic payments provider in the industry, Datacap is the ideal partner for any POS provider that's serious about building a solution that will scale to address the needs of virtually any merchant, regardless of market or payment processing platform.
Contact us to learn more! https://datacapsystems.com/contact-us/
Contact: Justin Zeigler, Product
Phone: 215-997-8989 x 132
e-mail: [email protected]
Web: https://datacapsystems.com
November 1 st , 2023