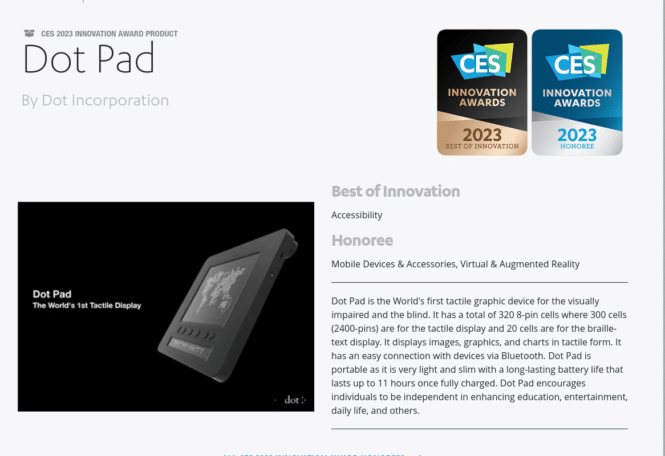 CES 2023 Innovation Award for Braille Pioneer
Kiosk Industry is happy to note that one of our sponsors recently won two awards at the CES 2023 show.  The Dot Pad is the world's first tactile display for braille and assistive technology.
Link to award — https://www.ces.tech/innovation-awards/honorees/2023/best-of/d/dot-pad.aspx
Best of Innovation Tactile Display
Accessibility
Honoree for Tactile Display
Mobile Devices & Accessories, Virtual & Augmented Reality
---
Dot Pad is the World's first tactile graphic device for the visually impaired and the blind. It has a total of 320 8-pin cells where 300 cells (2400-pins) are for the tactile display and 20 cells are for the braille-text display. It displays images, graphics, and charts in tactile form. It has an easy connection with devices via Bluetooth. Dot Pad is portable as it is very light and slim with a long-lasting battery life that lasts up to 11 hours once fully charged. Dot Pad encourages individuals to be independent in enhancing education, entertainment, daily life, and others.
More Resources by Dot
In Related News from Europe and EN301-549
Interesting Trends
More Links